THE EVOLUTION IN THE GCC WEALTH MANAGEMENT SPACE
Anthony: In the post-pandemic age, consumers want to intelligently engage in sustainable investment opportunities. Gone are the days when customers played safe. Now, consumers want to participate in growing their wealth and are willing to diversify, be it insurance products, mutual funds, bonds or stocks. To address these consumer demands, Emirates NBD just completed core systems transformation and we are in the early stages of providing digital solutions, focused on wealth management, to our customers. We expect to go live with trading capabilities in global stocks early next year.
Because of the record influx of high-net-worth individuals from traditional hubs of wealth like Switzerland and Hong Kong, a lot of capital flows have come into Dubai. Apart from the geopolitical situation, Covid was also a contributor to the movement of capital from these traditional hubs into Dubai. These factors, among others, have contributed to the uptick in interest in wealth management products and solutions in the region. As a result, local banks began launching trading platforms along with other wealth management solutions. It is an encouraging trend that will last long and continue to pick up steam over the next few years.
Sriranga: Transformation has been the buzzword in this region. Though banks could be in various stages of transformation, digitisation remains the core objective. In the UAE for example, banks like Emirates NBD are going for early adoption of digital transformation, enabling them to provide their customers with state-of-the-art and innovative digital products and services. Emirates NBD's digital transformation in the wealth management space will go a long way in helping them maintain their leadership in the market.
Cloud and digital transformations are going to define the way business is going to be done in the future in the MEA region. Every product implemented, especially in the wealth management space, will follow this route and help the banking fraternity derive maximum value. Infosys Finacle is investing heavily in these products and offerings. Some of the biggest banking brands are already associated with Finacle for this product line.
KEY PRIORITIES FOR ENBD WEALTH BUSINESS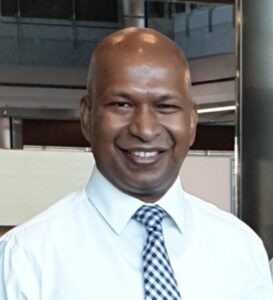 Anthony: Emirates NBD has been transforming our technology platform capabilities over the past few years. The wealth business is well-positioned to make use of these transformations and capture the opportunities coming to this region. Wealth management at Emirates NBD is more than a decade old; we have been providing solutions to high-net-worth individuals, private/priority banking customers, and to certain retail banking customer segments. We are now looking to provide wealth solutions to our customers on online and mobile platforms. As the largest bank in Dubai with a large customer base, Emirates NBD would like to increase penetration in wealth management and investments as well. We see huge potential to do so by implementing digital solutions.
ENBD & INFOSYS FINACLE: BUILDING FURTHER ON A STRONG PARTNERSHIP
Anthony: For a long time, Emirates NBD's Banca products were captured, documented and transacted on legacy in-house built systems; they were prone to error, and were not enabling scale and growth. It was also challenging to be fully compliant with regulatory and reporting requirements. We needed to capture these requirements and address the growing operational risks in the organisation. These reasons drove us to consider implementing one solution that would capture all the workflows in this key wealth business.
Although Infosys Finacle has been Emirates NBD's core banking platform for over a decade, when looking for the best Banca solution, we also considered other external platforms because we wanted the best-in-class/ best-in-industry solution. After going through a thorough evaluation of all the solutions available in the market, we were happy to conclude that Finacle's offerings fit our requirements like a glove.
Emirates NBD's journey with Finacle has been long and smooth. Right from the start, Finacle's project team has been very proactive and collaborative. Finacle not only brought technological expertise but also an understanding of what the business needed. Given that Emirates NBD had a legacy system with customer transactions and holdings recorded in multiple platforms, data migration was a huge effort. Considering the scope and magnitude of our customer base and data, Finacle's team did an excellent job, efficiently handling the load while providing timely support. This is among the best projects implemented in our bank, for which we deservedly won an award for execution excellence.
Our partnership with Infosys Finacle also pertains to Bancassurance, which is a key platform our customers. Implementing this enabled Emirates NBD to provide interested customers access to this product on a referral basis through our insurance partners/distributors.
Sriranga: Infosys Finacle and Emirates NBD started this partnership in June 2007. It has been a great success story for both organisations. Finacle started the journey with erstwhile Emirates Bank and halfway during the journey, Emirates Bank merged with erstwhile NBD. We were tasked with integrating both the entities under one umbrella – that of Emirates NBD. Finacle has the honour of being the only vendor listed in the Harvard Business review as a case study for the successful go-live in the newly formed Emirates NBD entity.
Later, in 2016, when Emirates NBD decided to embark on a digital banking journey enabled by Liv. powered by Finacle, we supported the bank's efforts and ensured that the UAE region of the bank went live successfully. And now, in 2022, when Emirates NBD decided to revamp their wealth portfolio, they signed up for a digital transformation of their Bancassurance business with Finacle as their partner of choice and have since won many awards for the successful implementation and go-live of the product, such as the "Best Bancassurance Implementation" at the MEA Finance Wealth and Investment Summit and Awards in 2022.
LEARNINGS FROM THE BANCASSURANCE DIGITAL TRANFORMATION PROGRAMME
Anthony: The biggest learning is that all this growth happens in different stages, and we must keep pace with the changes, not just in technology but also in customer aptitude, interest and adoption of products and solutions. We shouldn't hurry to implement a technology solution where we do not see traction in terms of customer adoption or profitability.
Customer interest and demand for wealth management has only been rising and Emirates NBD has every intention of addressing these needs, while ensuring that both internal and external stakeholders are prepared to adapt to and adopt these solutions in a seamless manner.
THE VISION – ENBD WEALTH MANAGEMENT BUSINESS
Anthony: Emirates NBD wants to increase market share and penetration in wealth products within our existing customer base, and beyond it. There is huge potential that we are yet to optimise and digitising our wealth management platform and products is an important way to do that.
Another objective is to offer portfolio advisory and asset management solutions to our private and priority banking customers, which requires digitising our existing platforms, and providing better advisory tools to be used by relationship managers or the customers themselves. We are also looking to integrate our platforms with our international locations to serve customers banking with our offices in Singapore, London, KSA, India, Egypt, etc. a seamless experience across those locations.