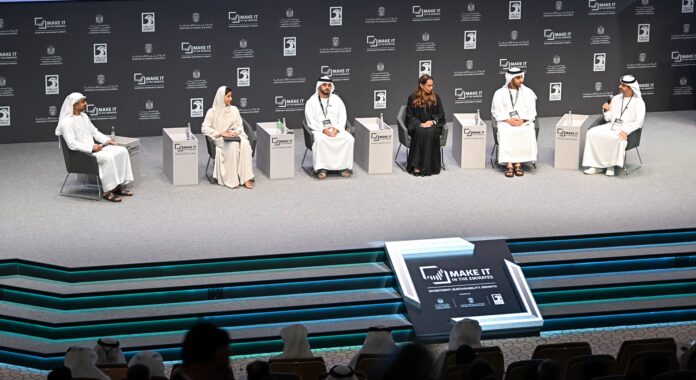 The CEOs of major national banks have underscored the importance of the UAE government's efforts in providing subsidies, financing, and guarantees to facilitate market access in the UAE amid rising global challenges to capital access.
Speaking at the 'Competitive Financing as a Key Enabler' panel on the final day of the Make it in the Emirates Forum, Raja Al Mazrouei, CEO of Etihad Credit Insurance (ECI), highlighted the crucial role of innovative financing solutions in driving manufacturing growth in the UAE and attracting outside players.
Al Mazrouei stated: "Everybody sees this as an opportunity to bring their businesses here. Accessing capital can be challenging, but fortunately the government has established a substantial pool of subsidies, financing, and guarantees that are available for all entities looking to enter the market."
Ahmed Mohamed Al Naqbi, CEO of Emirates Development Bank (EDB), stressed the indispensable role of a robust financial sector in supporting the manufacturing industry. He said: "A proper manufacturing sector cannot thrive without a strong financial sector backing it." Al Naqbi also noted that development banks play a key role by offering tailored solutions and supporting sectors that may carry higher risk compared to commercial banks.
The panel session also heard from Hana Al Rostamani, Group CEO, First Abu Dhabi Bank (FAB), who said: "Innovation is integral for the development of economic growth and partnerships with financial institutions are very important to all of this."
Khalil Al Mansoori, Acting Director General of Abu Dhabi Exports Office (ADEX), noted: "By ensuring access to financing, the financial sector is supporting the manufacturers in scaling up their operations, improving product quality, and fostering innovation."
While Mohamed Al Marzooqi, CEO of HSBC Bank Middle East, stressed the importance of early engagement with financial institutions and highlighted HSBC's partnership approach: "We consider ourselves as equity contributors. Your success is our success, and your failure is our failure."
Global firms laud UAE's competitive edge
Global technology and aerospace companies including Thales and Baker Hughes praised the UAE's ability to attract foreign direct investment and talent.
Zaher Ibrahim, Vice President of Baker Hughes for Europe, Middle East & Africa, described the country as a "great catalyst" for business, citing "huge momentum for growth" across the energy value chain from green to conventional power.
"Our partnership with ADNOC Drilling since 2018 has been pivotal in how we drive the right efficiency and automation. And we see this as a huge opportunity to continue to grow not only in the UAE but in the region and globally," he said during a panel session titled 'Why Make it in the Emirates: The Investor Perspective'.
Elias El Merrawe, Vice President of Civil Business at Thales, meanwhile described the UAE as a "strategic partner", noting: "The UAE has a very big competitive advantage which we saw during the pandemic… It's on the world map. Everyone talks about the quality of life here, it's attracting the right talent, there's the right level of education and we at Thales made a strong decision that we are one hundred percent investing into the UAE."
Amer Kakish, CEO, Ittihad International Investment, added that the Emirates' real value proposition for investors is its local and global logistics connectivity and infrastructure: "Our real value proposition and the real pillar that made us, at Ittihad, successful is connectivity. Name me one country that has access to 11 ports within a vicinity of 200 kilometres. From our location today, within a radius of 150 kilometres, I can access seven different ports [across the UAE]."
Eng. Abdulla Abdul Aziz AlShamsi, Acting Director General, Abu Dhabi Investment Office (ADIO), underlined the importance of partnerships in attracting investments: "We are here to serve the investor, whether they be local, international, small, large, or multinational corporations. We are here to enable a sustainable long term value proposition."
Mohamed Al Musharakh, CEO of the Sharjah FDI Office, said he hoped new infrastructure spending in Sharjah will attract investment.
"Around 20,000 manufacturers sit in the emirate of Sharjah," he said. "We have more than 33 industrial areas, we have two main industrial parks today in Emirates Industrial City and Al Sajaa Industrial Oasis. The infrastructure that Sharjah is putting in place will definitely attract a lot of investment."
Fostering local talent
The final panel of the day focused on fostering local talent in the private sector, which explored the UAE's model for empowering national cadres.
During the panel, His Excellency Omar Al Suwaidi, Undersecretary of the Ministry of Industry and Advanced Technology said building local capacities and upskilling Emirati talent is one of the national industrial strategy's key pillars.
"In line with the National ICV Program, MoIAT identifies job opportunities for Emiratis within certified public and private sector entities operating in the UAE's industrial sector. There are currently over 5,000 companies within the ICV program employing 11,500 nationals – a number which we aim to grow," HE said.
His Excellency Ghannam Al Mazrouei, Secretary-General of the Emirati Talent Competitiveness Council (Nafis) said: "Since its launch in 2021, the Nafis program has allocated AED 24 billion to provide job opportunities for local talent in the private sector. It currently aims to create 24,000 jobs for Emiratis in 2023."
Also on the panel was Dr. Saleh Al Hashemi, Head of the Department of Commercial Affairs and In-Country Value at ADNOC. He noted how in line with the UAE's efforts to empower local talent in the private sector, ADNOC has prioritized local companies in its procurement plans.
"This contributes to the upskilling and hiring of national talents. Since 2018, we have created 5,000 job opportunities and are currently aiming for 5,000 more," he said.
Eng. Arafat Al Yafei, Executive Director of the Industrial Development Bureau (IDB) said: "One of the main priorities of the Abu Dhabi Industrial Strategy is to create 13,000 jobs for local talent by 2031. In parallel, we also support entrepreneurship as well as SMEs by providing competitive financing solutions and business incubators."
The Make it in the Emirates Forum takes place from 31 May to 1 June at the Abu Dhabi Energy Center under the theme 'Investment. Sustainability. Growth'. It is being hosted jointly by MoIAT, the Abu Dhabi Department of Economic Development and ADNOC.