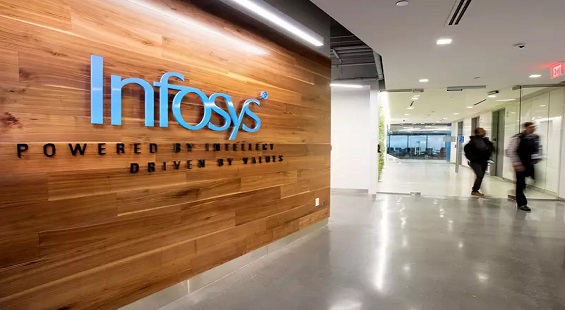 Infosys Finacle, part of EdgeVerve Systems, a wholly-owned subsidiary of Infosys , today announced that it has been positioned as a Leader in The Forrester Wave™: Digital Banking Processing Platforms, Corporate Banking*, and The Forrester Wave™: Digital Banking Processing Platforms, (Retail Banking), Q3 2020.
In the report on Corporate Banking, Forrester notes that "Leading corporate banks outpace their retail banking peers in using emerging technologies and embed their products and services in the daily lives of their corporate clients, yet very few corporate banks think that they have the right applications and architecture in place to best serve their customers — and their employees. Application development & delivery teams need to identify state-of-the-art digital banking processing platforms that will help their bank survive in the fast-paced world of open digital banking."
Finacle has been positioned as a Leader in the report by Forrester, following an evaluation of the 9 most significant Corporate banking solutions on 37 criteria across current offering, strategy and market presence. The Forrester report states that Finacle's corporate Digital Banking Processing Platform (DBPP) differentiates with state-of-the-art architecture. Following are findings from Forrester's evaluation of Finacle Corporate Banking solution –
Finacle had the highest scores among all vendors in the "Current offering" and "Strategy" categories
The solution received the highest scores in the criteria for "Customer-focused product definition', 'Architecture (tied)', 'Supporting Products and Services(tied)', and Planned Enhancements (tied)
The solution received a score of 5/5 in 16 of the 37 evaluation criteria, including Execution Roadmap, Market Approach, Headless Banking, Partner Ecosystem, and Breadth of Offering
A copy of the report can be accessed here.
Referring to EdgeVerve's Finacle Corporate Banking solution suite, Jost Hoppermann, VP and Principal Analyst, Forrester writes in the report, "EdgeVerve's corporate DBPP differentiates with state-of-the-art architecture. The vendor's cloud strategy goes beyond cloud-based delivery models and also considers banking application ecosystems and platform-as-a-service plans, for example. Further strong points of the DBPP are its active ecosystem of system integrators and its support of APIs…EdgeVerve is a good option for corporate banks that want to mix and match select Finacle capabilities within a digital transformation project and those seeking a technologically advanced and comprehensive DBPP that has strong technology strategy and shows a strong focus on the cloud."
Sanat Rao, Chief Business Officer and Global Head, Infosys Finacle said, "As banks work towards reviving their business amidst the multifaceted disruption caused by the pandemic, it is clear that to succeed and prevail in the new normal, banks need to transform themselves into truly digital organizations. Our investments in Finacle Digital Banking Solution Suite and our experience of powering the digital visions of financial institutions in over 100 countries, place us in a unique position to help banks accelerate their transformation journeys with confidence. We believe the results of Forrester's comprehensive assessment underscore our ability to help banks of all sizes and personas succeed with their digital transformation objectives."
* Source: The Forrester Wave™: Digital Banking Processing Platforms, Corporate Banking, Q3 2020