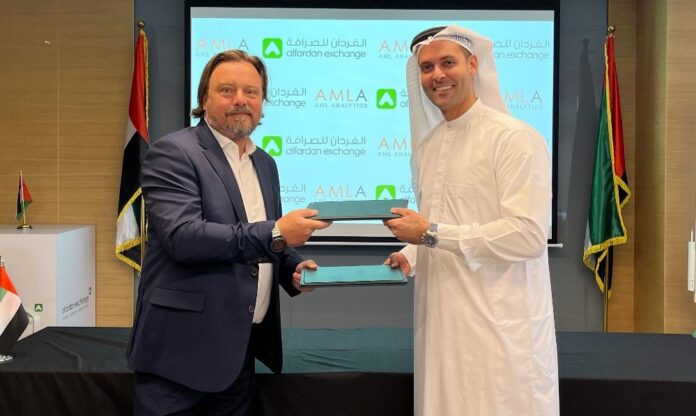 In a strategic move designed to reinforce its commitment to rigorous sanctions systems testing, Al Fardan Exchange has partnered with AML Analytics, provider of testing and validation of sanction screening and transaction monitoring systems.
The partnership signifies a notable milestone in Al Fardan Exchange's commitment to ensuring that sanctions systems are functioning as intended, thereby elevating anti-financial crime standards in the market. Al Fardan Exchange seeks to fortify its already robust ethical and sustainable business practices, by implementing comprehensive compliance measures for Anti-Money Laundering and Combating the Financing of Terrorism (AML/CFT).
Al Fardan Exchange's adoption of AML Analytics testing is a critical step towards ensuring the efficiency and effectiveness of their sanction and PEP screening systems. AML Analytics Regulatory Technology (RegTech) solutions enhance the screening and monitoring systems, which will assist Al Fardan Exchange in complying with regulatory requirements. This will help to minimise the risk of financial crime, Targeted Financial Sanctions and ensure that strong detection systems are in place.
"Through this strategic alliance, Al Fardan Exchange is set to invest substantially in state-of-the-art technology and expertise, elevating its operations and services to unprecedented levels of excellence". Hasan Fardan Al Fardan, CEO of Al Fardan Exchange, stated, "Our partnership with AML Analytics marks a significant milestone in reaffirming our unwavering commitment to upholding the highest standards of compliance both regionally and globally."
"AML Analytics are delighted to have been asked to partner with Al Fardan Exchange to assist with their continued proactive approach to their AML/CFT work. I'm thoroughly looking forward to working closely with Hasan Fardan Al Fardan and his team to help them further the development of their vision and future goals." Tim Holder, Managing Director Middle East and Africa, AML Analytics.
AML Analytics collaborates with regulators, supervisors, and central banks globally, delivering technical expertise and advanced Supervisory Technology (SupTech) to test and validate regulated entities' AML/CFT systems as part of Thematic Reviews. AML Analytics has worked with over 40 regulatory authorities across the globe.