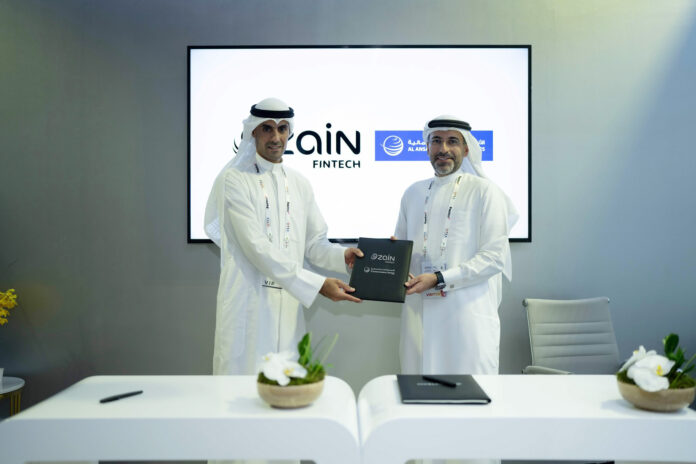 Zain FinTech, the financial services arm of Zain, a leading regional telecom group operating in seven markets across the Middle East and Africa, entered a Memorandum of Understanding (MoU) with Al Ansari Financial Services PJSC [DFM: ALANSARI], one of the leading integrated financial services groups headquartered in the UAE with operations across the region. The strategic alliance marks the beginning of a promising collaboration between the two organizations, focused on harnessing technology to enhance financial services for their customers across markets.
The MoU was signed by Bader Al Kharafi, Zain Vice-Chairman and Group CEO and Rashed A. Al Ansari, Board Member and Group CEO of Al Ansari Financial Services, setting the stage for an exciting partnership that will leverage the strengths of both companies to drive innovation and improve financial services delivery across the region.
Bader Al Kharafi commented, "A key part of Zain's '4Sight' growth strategy focuses on maximizing the enormous opportunities in the digital financial arena on the back of our footprint, customer base, and leading technologies. We aim to expand our innovative fintech service offerings to advance the region's digital ecosystem and will continue pushing the boundaries, leveraging on the vast network of strategic partners in each of our markets."
Rashed Al Ansari added, "We are excited to join forces with Zain, a company that shares our passion for innovation and our commitment to delivering exceptional financial services. Through this collaboration, we aim to revolutionize the financial landscape and provide our customers with the latest technology-driven solutions."
By investing in financial technology and other contemporary tools, and harnessing the power of these solutions, both Zain FinTech and Al Ansari Financial Services aim to redefine the remittance experience and enable convenient and secure transfer of funds. The partnership will enable both entities to effectively advance financial services and technological solutions in the region, ensuring improved customer experiences for the markets in which both entities operate.
The Zain FinTech umbrella
As the financial services arm of Zain Group, operating fintech services across its Middle East and African footprint. Zain FinTech offers an appealing and much needed range of innovative products and services related to payments, remittances, credit cards and micro-finance within the Zain ecosystem and beyond. Zain FinTech's B2B SAAS solution provider 'FOO' specializes in empowering businesses providing innovative fintech solutions, built entirely in-house, which optimize digital capabilities for clients across diverse industries and enables them to deliver an unparalleled user experience.