The region's top players in payments took part in the MEA Finance, Leaders in Payments Conference and Awards held on the 14th of September 2023, at the Ritz Carlton Hotel, JBR in Dubai.
The regions premier one-day summit, focused on the fast-developing payments market and how it is shaping the economies of the Middle East and Africa, was a notable success.
Once again MEA Finance pulled off an event that was not only fully attended from start through to finish, but also packed with leaders from banking and finance, visionary thinkers and innovators from fintech, and leading-edge payments technology providers, who gripped the attention of the avidly interested audience, all there to pick up on the latest developments in the world of payments.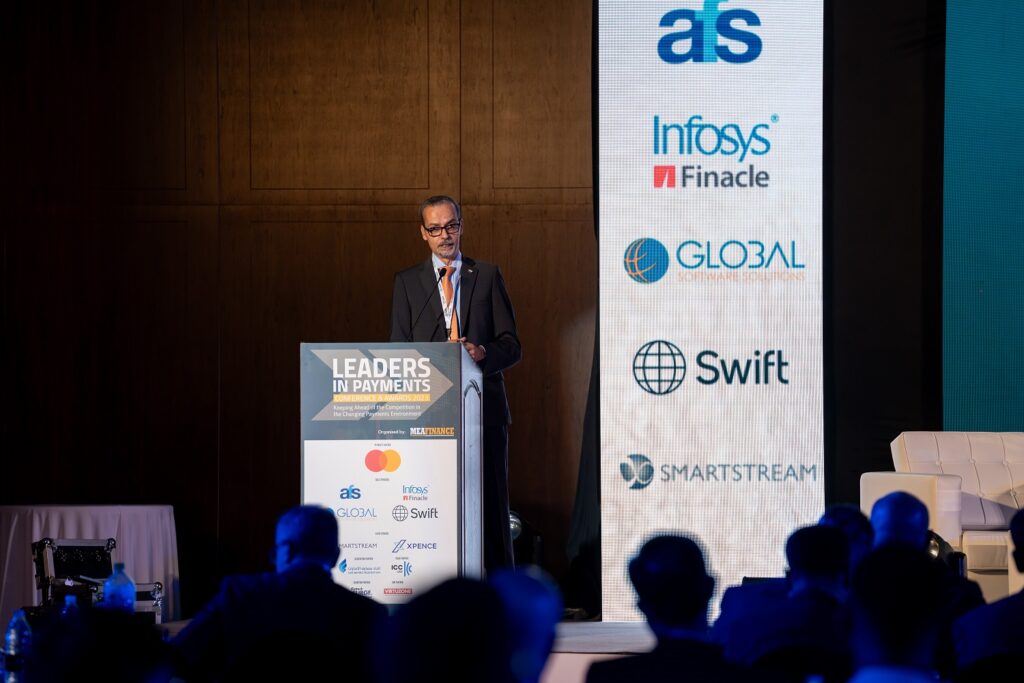 More than thirty industry leaders took part as speakers to over 500 delegates at this high-level gathering, opened by Jamal Saleh, Director General, UAE Banks Federation, who delivered the opening keynote address.
The Summit started with a panel discussion entitled – Regulation, Standardisation and Ongoing Developments: Who or what leads the development of payments?
The panellists were…
Ken Coghill, Director – Head of Innovation & Technology Risk Supervision, Dubai Financial Services Authority (DFSA), Altaf Ahmed, Director, Digital Payments & Retail Solutions, e&, Mohammed Wassim Al Khayata, CEO, Al Maryah Community Bank, Vishal Tikyani, Executive Director – Head of Cash Products, Transaction Banking, UAE, Standard Chartered Bank – Gabrielle Inzirillo, Head of Ecosystem Development, Abu Dhabi Global Market (ADGM) – Samer Soliman, Chief Executive Officer, Arab Financial Services (AFS) and well moderated by Lucian Crisan, Senior Manager – Fintech and Financial Services, PwC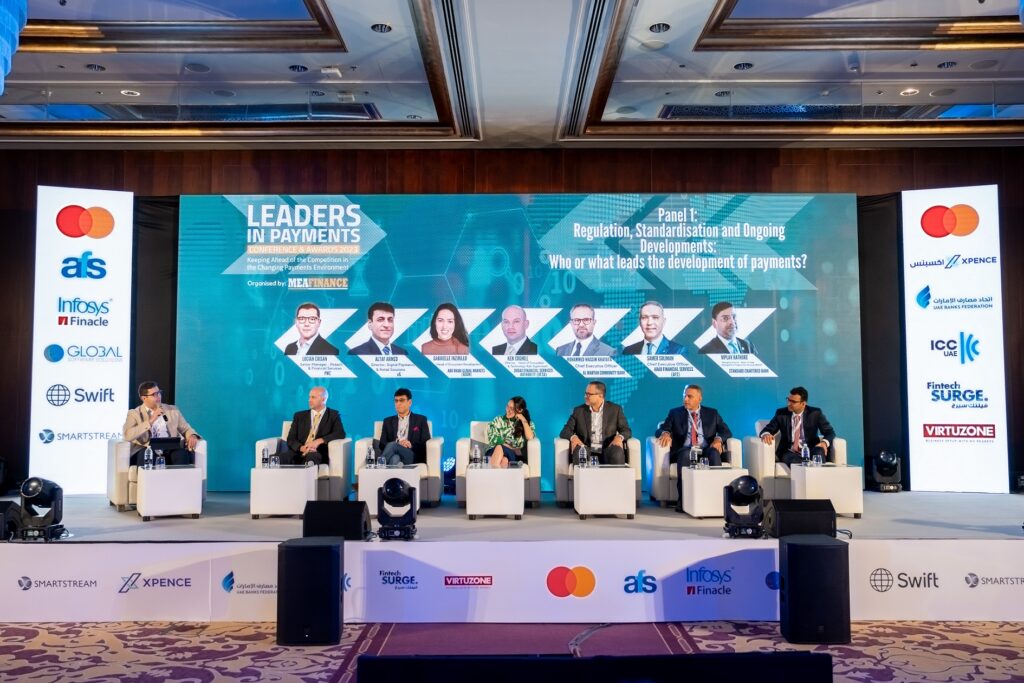 The next panel discussion was – The Business Case for Real Time Payments: How important are Real Time Payments to the enterprise goals of financial institutions?, was joined by
Jagadeshwaran K, Managing Director – Treasury & Trade Solutions, MENAPT, Citi, Gautam Dutta, MD & Head – Cash Product Management & Innovation, First Abu Dhabi Bank – Mahmoud Abuebeid, CEO & Board Member, Global Software Solutions (GSS) Group, Siva Subramanian, Head – Product Management – Payments & Cash Management, Infosys Finacle – Abdulrahman Khan, Head of Products & Innovation, Banque Saudi Fransi, and engagingly moderated by Sandeep Dhawan, Regional Head of Product – Payments, J.P. Morgan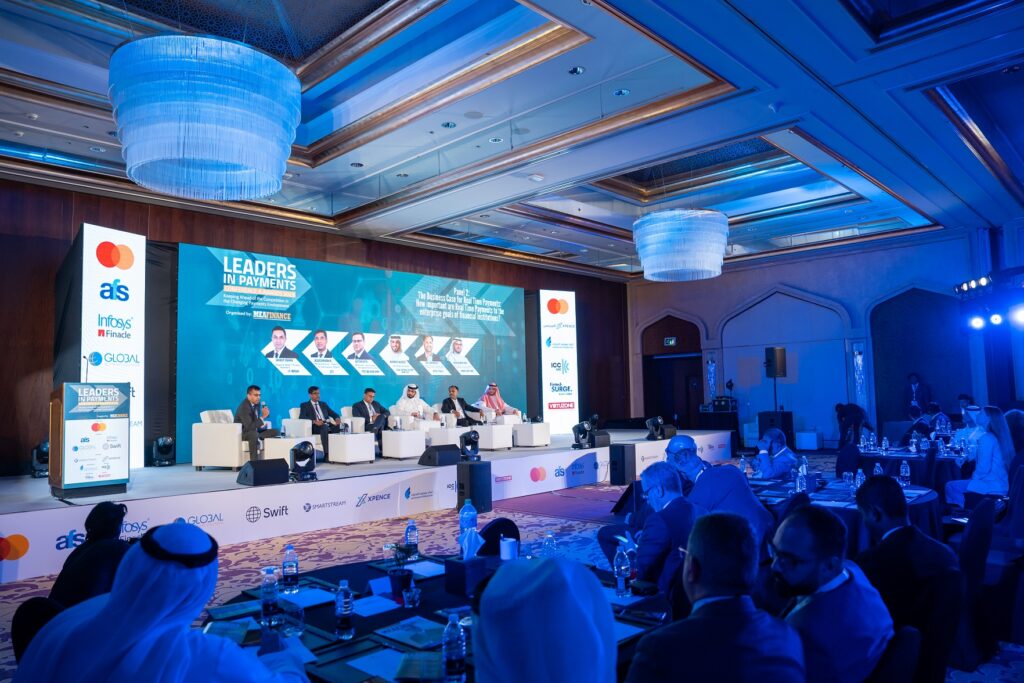 The next session – In Conversation With, was an enjoyable and enlightening talk between with two key figures in the fintech and payments arena Ramana Kumar, Chief Executive Officer, Magnati & Arjun Singh, Partner, Global Financial Services Practice, Arthur D. Little, where they talked over "The Power of Data Monetisation and Payments".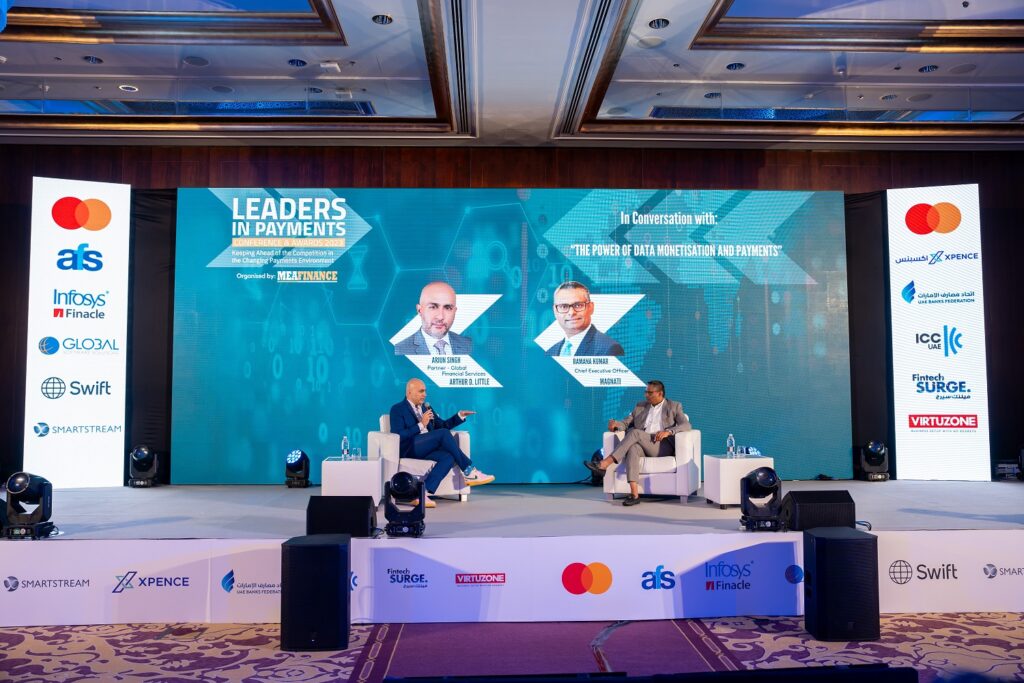 Following came the third panel The Role of The Cloud in Payments: Can the cloud provide for all your payments needs?, with Mohamed Roushdy, Founder, Fintech Bazaar, Hani Idris, CEO, International Development Bank, Sasi Nair, Head of Technology Service Delivery, Commercial Bank of Dubai, expertly moderated by Saad Ansari, Co-founder & CEO, Xpence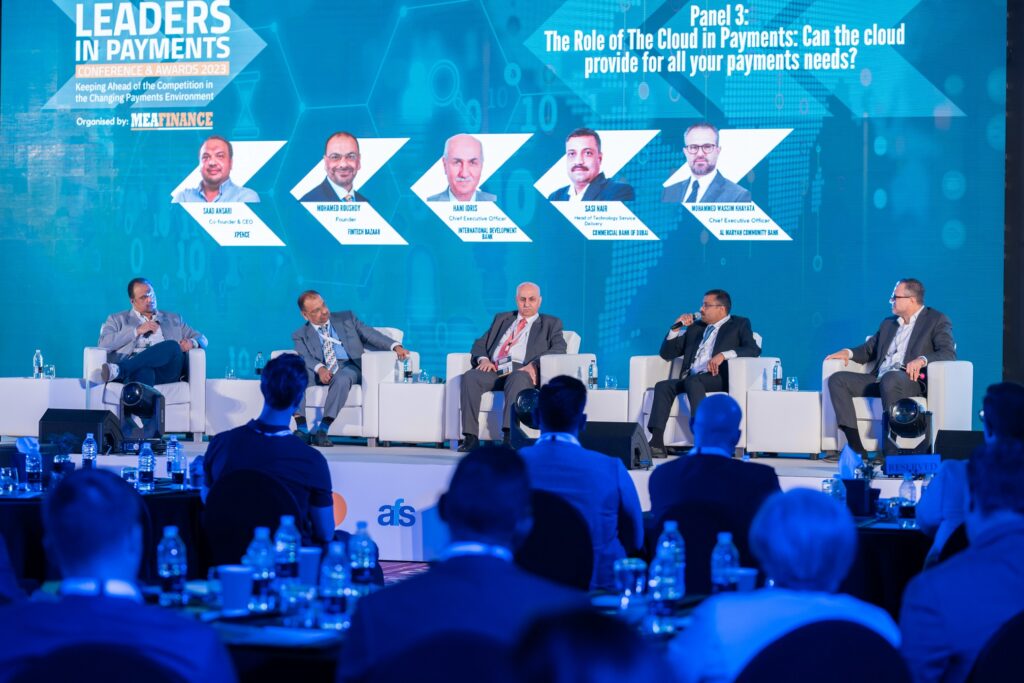 After was – ISO 20022 and Cross-Border Payments in review: How are we doing and where are we going?, included Pritesh Kotecha, SVP, MEASA, Smartstream, Ahmed El Hefnawy, Chief Business Officer, BUNA, Anand Sampath, Managing Director, Head- Payments, Collections & Client Implementation, First Abu Dhabi Bank, Onur Ozan, Regional Head, Middle East, North Africa & Turkey, Swift, keenly moderated by Sanjiv Purushotham, Managing Partner, Bridge DFS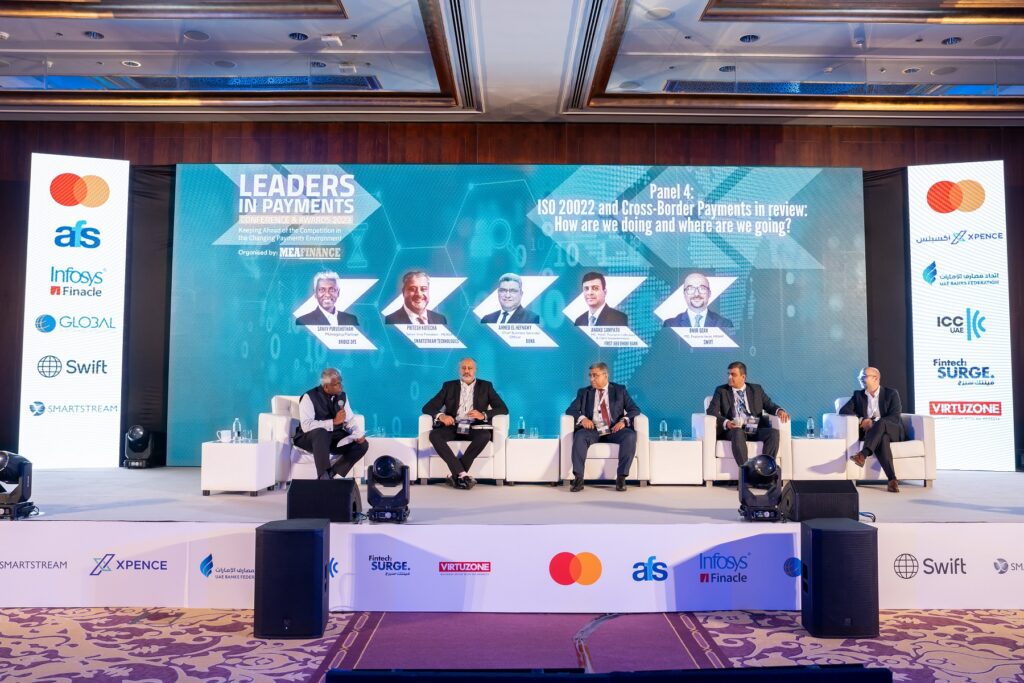 Then came the next In Conversation With, which was a lively and captivating talk between Navin Gupta, Managing Director, Southeast Asia & MENA, Ripple, Sagar Chandiramani, CEO, WorkerAppz Payments, and once again with Arjun Singh, Partner, Global Financial Services Practice, Arthur D. Little, talking on the theme, Monetising Payments and Third-Party Risk – A Balancing Act.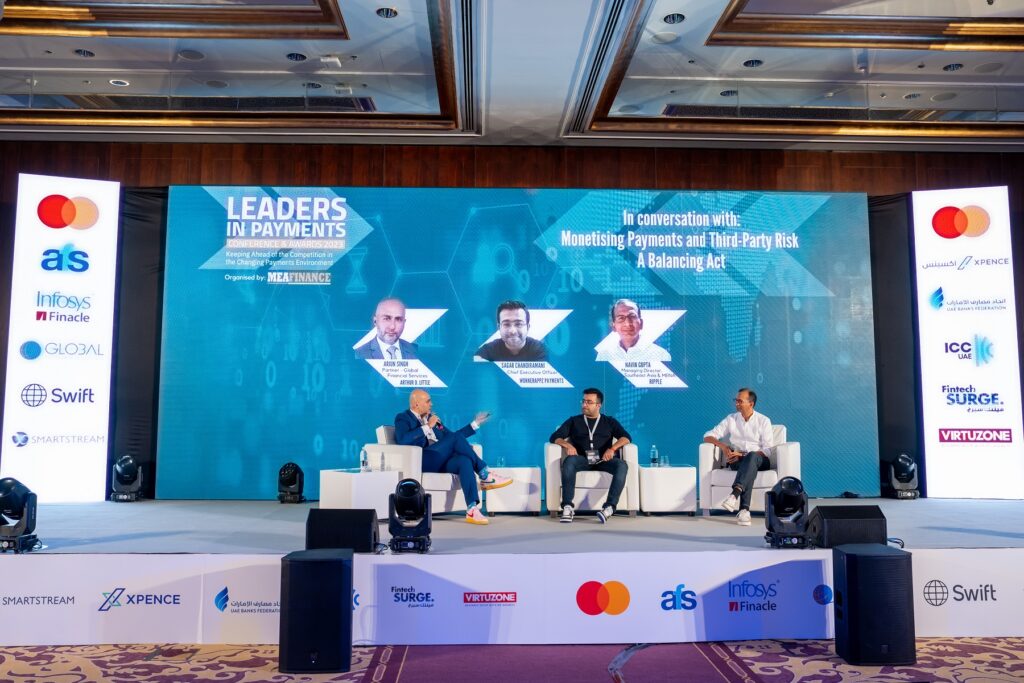 The final panel of the summit was, The Clients and the Customers: What do clients and customers really want from modern payments?, featuring Paul Bryson, Managing Director, Virtuzone, Raju Adnani, MEA Head of Domestic Payments, Citi, Vibhor Mundhada, CEO, Neopay, Mashreq, Ibtissam Ouassif, Co-Founder and CPO, Cashew Payments, Omar Haddad, General Manager – GCC Cluster II, Paymob, Nisreen Al Matarweh, Account Director, Swift, Seemanti Considine, Head of FI and Transaction Banking, Wio, all moderated by Goncalo Traquina, Partner, KPMG Lower Gulf.