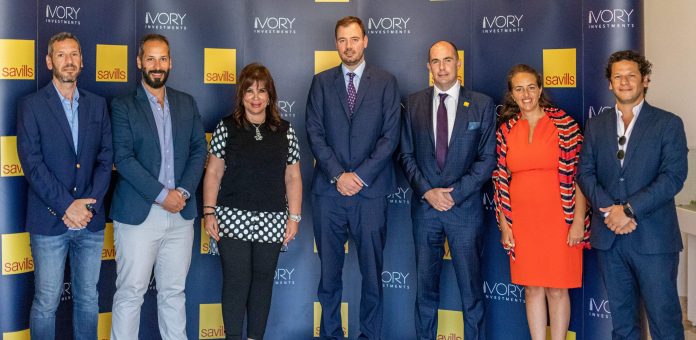 Savills announced its appointment to manage the upcoming luxury destination Ivory Business park, located within SODIC's flagship project Allegria. This follows rapid expansion of the firm in the country in the recent years, taking on mega projects like Arkan as well as smaller boutique residential spaces in Cairo's affluent district Zamalek.
Ivory Business Park is a mixed-use office and retail destination set to launch mid-2021, with Savills playing a key role in management, leasing, and marketing. The development brings to the area over 10,000 square meters of office space and over 7,000 square meters of leasable retail, that will be home to over 70 shops and restaurants, a 120-room hotel as well as a new cosmetic medical destination to be revealed next year.
With immediate effect Savills will be responsible for the day-to-day management of Ivory Business Park which will include all tenant interaction, rent collection, maintenance, and security as well as the leasing and sales of units. To head up the new team Savills is bringing an extremely experienced Client Services Director from the UK called James Bailey who has managed 3 of the top 20 shopping malls in the UK and has over 20 years retail experience in the UK.
Catesby Langer-Paget, Head of Savills Egypt said: "We are delighted to be working on such a luxurious and inspiring project. IBP is a significant addition to the Savills portfolio as we continue to grow across Egypt. Cairo has many exciting real estate projects which require real estate advisory services and Ivory Business Park provides us with the perfect opportunity to demonstrate the value that we can add for our clients here."
Sahar Agaty, Chief Executive Officer of Ivory Investments said: "Our appointment of Savills represents another milestone in our growth; it further demonstrates our commitment to collaborate with industry leaders and stands as a chance to integrate the unique customer-centric services of Savills Property Management into our line of developments in Egypt and at this particularly exciting time for Ivory Business Park, in planning for a spectacular launch mid next year."
Following its launch in 2018, Ivory Business Park has been one of West Cairo's most sought-after destinations for the commercial and social needs of the community. Its location in the heart of SODIC West and directly overlooking the Cairo-Alexandria main throughway, provides convenience and easy accessibility for a varied range of shops and services, driving its position as a thriving hub of the for the community.