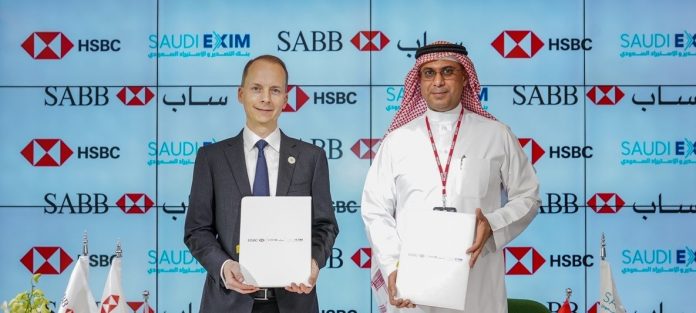 Saudi EXIM Bank announced that it has launched a strategic partnership with HSBC Bank Middle East Limited ("HSBC") and Saudi British Bank ("SABB"), both leading international banking and financial services providers in Saudi Arabia, the Middle East and beyond. The partnership establishes a framework of cooperation between the three organizations in the areas of trade & export financing and credit insurance in line with Saudi EXIM Bank's mandate to boost the export of Saudi products and services.
The collaboration will also seek to capitalize on HSBC's global expertise and experience in providing export financing and working with credit insurance including: Export Credit Insurance to Saudi exporters against commercial and non-commercial risks, supply of Export Financing and Buyer's Credit Financing in relation to international contracts, Project Financing, Small and Medium Enterprise-directed Financing, and also Letters of Credit Confirmation.
Areas of collaboration also include the fostering of knowledge transfer, mutual involvement in relevant events, activities, and the sharing of market intelligence and country reports to highlight commercial and political risks associated in international trade activities.
Commenting on the signing of the MOU, Eng. Saad Alkhalb, Chief Executive Officer of Saudi EXIM Bank, said: "In keeping with our commitment to drive efforts to develop and diversify Saudi Arabia's non-oil exports and to enhance cross-border trade flows, our collaboration with HSBC and SABB represents a significant step towards achieving our objectives to build effective partnerships with national and international financial institutions. We look forward to working together to contribute to realizing Vision 2030's goals."
For his part, Stephen Moss, Regional Chief Executive Officer, HSBC Middle East, North Africa and Turkey, said: "Vision 2030 is one of the world's most ambitious economic transformation programs and HSBC – with a global network, covering more than 90% of world GPD, trade and capital flows – is well positioned to support the Kingdom's aims for the sustainable growth and development of Saudi businesses and exporters with our financing, investment and transaction banking solutions."
Tony Cripps, Managing General Director of SABB added that "As Saudi Arabia's largest trade bank we are pleased to partner with Saudi EXIM to enhance our trade & export finance and risk mitigation capabilities for clients in support of Saudi Vision 2030 and the diversification of Saudi Exports."