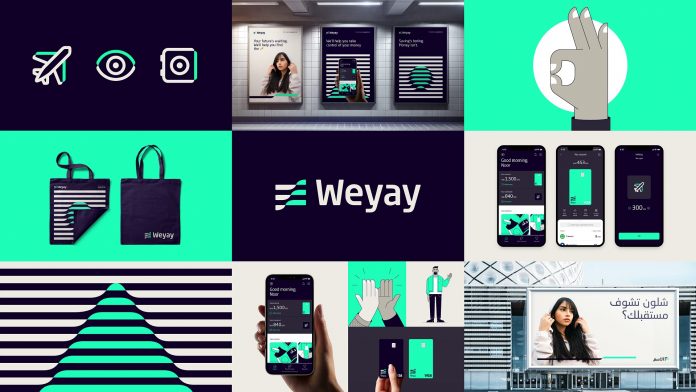 R/GA London partnered with the National Bank of Kuwait (NBK) on the launch of Weyay, the very first fully-digital bank in Kuwait.
Built from the ground up in just twelve months, Weyay is designed to serve the financial and lifestyle needs of young Kuwaitis. The new banking platform is part of NBK's wider digital strategy to provide customers with cutting-edge technology and tools.
The ambition of Weyay was to build a world-class banking experience for young Kuwaitis. R/GA London collaborated with NBK's team to create a modern, flexible, visual and verbal identity. The name Weyay ('with me') was selected to reflect NBK's personalised approach to digital banking, and the logo was created to signify progression and growth.
Weyay's brand identity is brought to life through unique features, initially launching with fast digital onboarding, fully digital account management and allowance transfer. Later in 2022 will see differentiators such as quick P2P payments, savings pots and goals, bills split, and integrated brand partnerships also go live.
Asthe country's first fully-digital bank, Weyay's suite of financial services are built to help young people feel empowered to manage their finances and feel supported in making decisions. The app is available in both English and Arabic.
Rebecca Bezzina, SVP Managing Director R/GA London said: "Working with the National Bank of Kuwait to design, develop and launch Weyay has been a real honour. Through extensive research we learned what motivates young Kuwaitis and how we can help them manage their finances using digital tools. Our joint aim was to create a platform that not only works functionally but also intuitively, so it can continue to meet the needs of customers as their priorities and circumstances evolve."
Shaikha Al-Bahar, NBK Group Deputy CEO stated: "We are excited to be offering the first mobile banking platform in Kuwait, offering young people choice in how they manage their finances as they increasingly live  digital-first lives. The intuitive Weyay platform enables young people to feel empowered and in control of their money and is designed to adapt and grow with customers as priorities change."