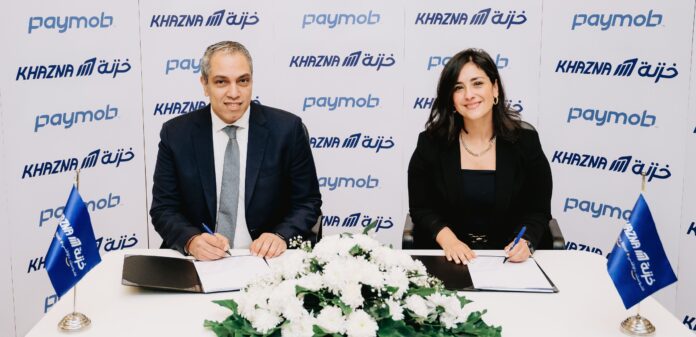 Paymob and Khazna, an Egyptian financial super app, announce a new partnership that will expand access to digital financial services, benefitting merchants and consumers in Egypt.
Merchants in Paymob's network can now offer Khazna's services via their integrated point of sale (POS) devices to Khazna's customers. This partnership between Khazna and Paymob will boost the growth of merchants in Paymob's network of 170,000 by offering them additional innovative solutions that meet consumer demands for flexible purchases.
The integration enables payment acceptance through a single POS device, delivering seamless, secure, and convenient customer experiences, while simultaneously making Khazna's services widely accessible across Egypt to Khazna's customers.
By expanding access to digital financial services in the country, this partnership will fuel financial inclusion in line with the Central Bank of Egypt's (CBE) recently launched Financial Inclusion Strategy, and ultimately Egypt's Vision 2030.
Ahmed El Meadawy , General Manager of  Khazna Egypt said, "We're happy to partner with Paymob to serve our unique customer base with an option to buy merchandise from any Paymob enabled merchant using the merchant portal directly on Paymob POS machines. This in turn would increase the variety of outlets that Khazna users can purchase from. and ease the transition to a cashless society, by having our merchants gain seamless access to POSs provided by Paymob."
Gillan Shaaban, Chief Commercial Officer of Paymob commented, "We are committed to powering the growth of small and medium-size businesses by serving as a trusted partner, providing them with innovative financial technologies that enable them to manage and grow their businesses. Khazna's solution is a great addition to our payment acceptance offering and will further fuel financial inclusion in the market."
Since its founding in Egypt in 2015, Paymob has offered its merchants the most comprehensive payment acceptance methods. Today, Paymob's omnichannel payments infrastructure enables over forty online and in-store payment methods via its gateway, POS, and Paymob app products. Paymob makes the process of growing a business in the digital economy simple, seamless, and agile, by delivering the most innovative financial technology products to merchants of all sizes.
Since 2020, Khazna's mission is to enhance the financial well-being of 35M+ underbanked Egyptians, who have little access to formal financial services by providing access to convenient, customer-centric, and technology-driven services. Khazna's services include Khazna prepaid card in partnership with ADIB-Egypt, payroll advance services, seamless purchases from a huge variety of merchants, and online bill payment.