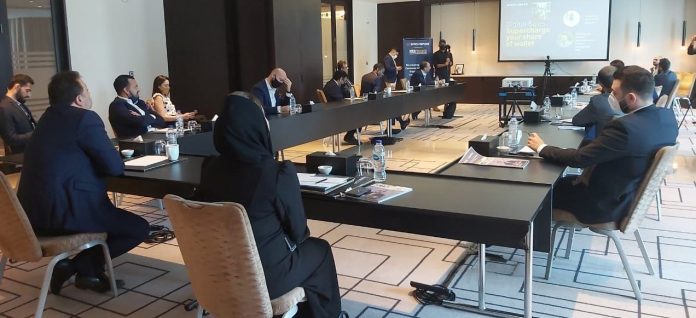 Top regional bank leaders gathered for a roundtable discussion held on March 17, 2021, at JW Marriott Marquis in Dubai, which was hosted by Backbase in cooperation with MEA Finance Magazine.
Fifteen banking leaders shared their thoughts on the topic, "Developing a Robust Customer Acquisition, Engagement, Loyalty, and Strategy". Insights exchanged at the first half of the discussion homed in on the weak spots that hinder most banks as they journey ahead with their digital transformation. Among the top issues raised was the unease with the gray areas within the existing regulations. While digital transformation has been a shared goal of banks in the UAE and the region, industry players are still hoping for clear and full regulatory support.
Participants also agreed that since open banking in the Middle East has started to gain momentum with more payment systems being offered, banks must be more inclined to collaborate with third parties to design more exciting and tailored services for their customer base. It was discussed further that banks must operate as more than mere banks as the new normal has shifted customer behavior so dramatically that flexing your digital banking leadership has become the new norm. The gainful utilization of online platforms was also raised where participants agreed that all online platforms must actually address customer wants and needs and should offer added value to customers.
However, customer onboarding remains evasive despite its significance in ensuring banks' digital transformation investments rake in the promised results.
Hosted by Saqib Khan, Sales Head at Backbase Middle East, the discussion progressed to Backbase's Engagement Banking Platform and how it has assisted banks to drive innovation and provide a flawless user experience on every touchpoint. More than 80 of the world's financial institutions have standardized on Backbase platform to improve their digital self-service and online sales operations across all digital touchpoints.
Ali Ghuloom, Head of Digitization and Projects Management at National Bank of Bahrain, through a live video link, discussed how Backbase's comprehensive suite of pre-built technology solutions has allowed NBB to rapidly deploy solutions across all their lines of business and enabled faster innovation for NBB to bring new products and services to the market remarkably more quickly and with great efficiency.
Among other highlights of the discussion which was chaired by Mohamed Roushdy, founder of FinTech Bazaar and a digital transformation advisor, include why digital transformation must be at the core of every business, not only banks, and how processes, people, and culture can affect the speed of the needed transformation.
Collaboration with fintech was also substantiated to benefit banks' digital transformation with a focus on how technology providers allow a bank to differentiate itself from the competition by adopting an entirely different digital approach, but with a common benchmark on platform's efficiency in terms of speed, flawlessness, and intuitiveness.
Participants at the event were from Standard Chartered Bank, Mashreq, National Bank of Fujairah, Commercial Bank of Dubai, RAKBANK, Citibank, First Abu Dhabi Bank, United Arab Bank, and Aafaq Islamic Finance.