Mashreq today has reported its financial results for the nine months ending 30th September 2020.
Key highlights [9M 2020 vs 9M 2019]:
Decline in Operating Income and Net Profit

Operating Income for 9M 2020 declined by 12.3% to AED 4.0 billion on the back of tough operating environment and decline in interest rates
However, high proportion of Non-Interest Income was maintained as Mashreq's non-interest income to operating income ratio remained at 48.1%.
The significant increase in impairment allowance coupled with lower operating income led to a sharp decline in net profit to AED 352 million.

Adequate Liquidity & Capital position

Maintained sufficient liquidity to offset market volatility and pandemic uncertainty
Growth of 4.1% YTD in Customer deposits to reach AED 94.7 billion
Liquid Assets ratio stood at 35.9% with Cash and Due from Banks at AED 55.1 billion as on 30th September 2020
Capital adequacy ratio and Tier 1 capital ratio stood at 17.4% and 16.3% respectively

Stable Loan Portfolio

Total assets increased by 6.5% YTD to AED 169.7 billion and Loans and Advances decreased by 2.9% YTD to AED 73.9 billion
Loan-to-Deposit ratio remained steady at 78.1% at the end of September 2020

Challenging Credit Environment

Non-Performing Loans to Gross Loans ratio was at 4.2% as of end of September 2020 down from 4.6% at the end of last quarter
Impairment allowance increased from AED 570 million in 2Q '20 to AED 665 million in 3Q '20; total provision reached AED 4.7 billion and coverage ratio improved to 120.4% as of end of September 2020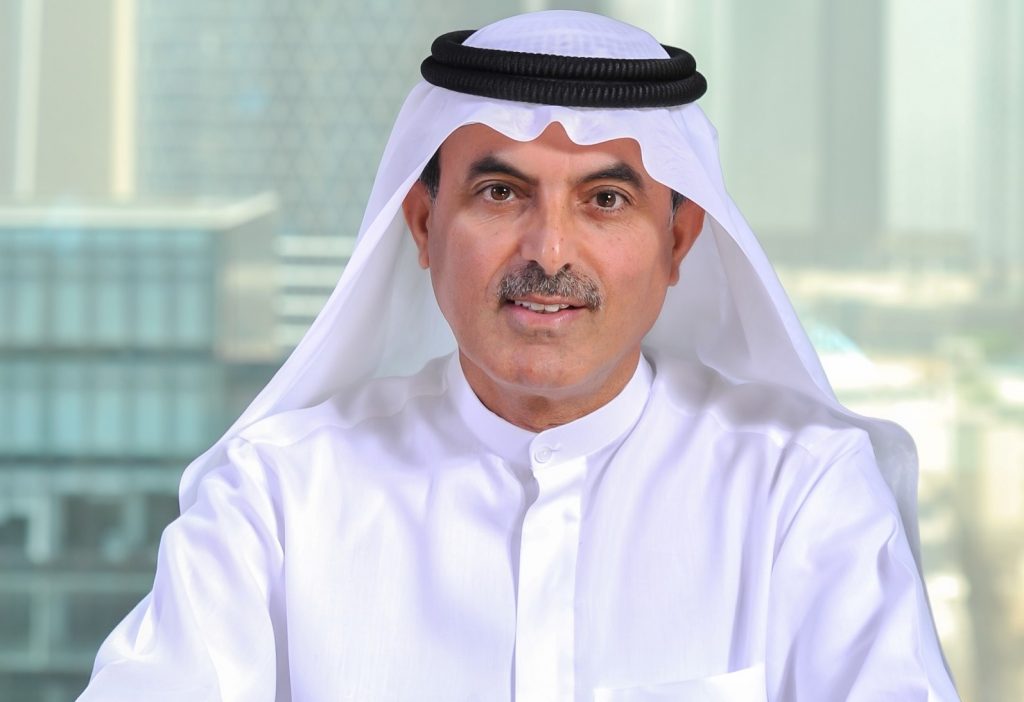 H.E AbdulAziz Al Ghurair, Chairman of Mashreq, said: "At Mashreq, we remain fully aligned to support the UAE economy and our communities, as we together pave the way to recovery. We will also continue to look at capitalizing on opportunities in the digital and technology space, with the ultimate aim of serving our customers better."
Ahmed Abdelaal, Group CEO, Mashreq Bank, said: "Our emphasis this year has been on guiding the bank through an exceptionally difficult period by focusing unwaveringly on our customers – businesses, individuals, and SMEs. Despite proactively managing the Bank's liquidity position and capital adequacy ratio, the continued market volatility and uncertain economic climate has led to a 12% reduction in our operating income which is primarily due to the prevailing environment of low interest rates. We have operated prudently in 2020, bringing operating costs down by 5.5%.
The tough operating conditions saw an increase in our net impairment allowances, driven by specific credit provisions and anticipated credit losses linked to the COVID-19 pandemic. We have worked hard to support all our clients through the immediate introduction of the UAE Central Bank's TESS programme, in addition to our own relief program that has enabled our customers to defer their principal and interest payments.
As we look ahead, our commitment to as well as continued investments in digital transformation remains a key priority, to ensure we can cater to the rising demand for digital services, service clients effectively, enhance the overall customer experience and remain well placed to effectively serve our customers into 2021 and beyond. We will continue to protect the Bank's fiscal position, maintain our capital adequacy ratio, and focus on innovating to support the families, professionals, businesses, and communities who rely on us."
Financial Highlights: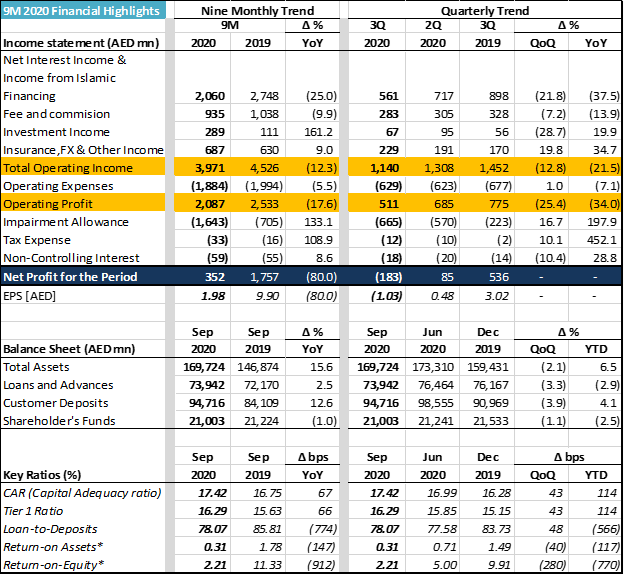 Exhibits: