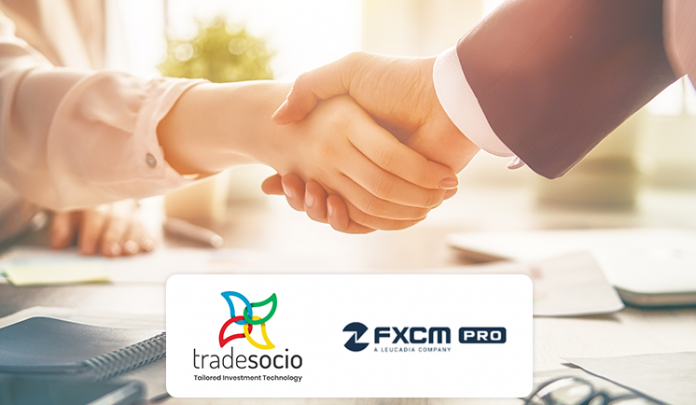 FXCM Pro, the institutional arm of the FXCM Group, is announcing today that it has partnered with Tradesocio, a leading trading technology provider.
This partnership will provide banks, brokers, asset managers, and other buy-side institutions, with a full fintech solution combining digital investment and trading technology from Tradesocio with market-leading institutional liquidity and global scale from FXCM Pro.
FXCM Pro's market-leading institutional liquidity will become available to Tradesocio's client base in New York and London. In return, FXCM Pro's clients can enjoy access to Tradesocio's customisable trading technology, providing automated and fast track investing for its clients.
The move provides a smoother trading experience during a time of high volatility and increased trading activity. During times like this, optimal trading technologies are vital for clients in cutting down operational costs while still retaining high levels of efficiency and liquidity in their trades.
Tradesocio's Investor Trading Platform provides clients with accurate real-time data, reporting tools and an advanced infrastructure for trading. The platform is fully customisable and can be scaled in line with a broker's growth requirements, without disruption to its services.
By partnering with Tradesocio, FXCM Pro will ensure its clients keep pace with the highly competitive broking and trading sectors while benefiting from being at the forefront of fintech innovation.
Wael Salem, CEO of Tradesocio commented on the partnership:
"We are very excited about this partnership which combines a complete, front-to-back-end fintech solution from Tradesocio with FXCM's state-of-the-art liquidity offering and risk tools. This partnership will enable brokerage firms, investment managers and hedge funds digitise their existing services, build a scalable mass affluent platform and tap into new revenue verticals."
Mario Sanchez, Managing Director and Global Head of FXCM Pro, commented: "Technology is undeniably playing a greater part in broking and widening participation, and as an industry, we are in a great position to reap the benefits of modern fintech solutions. This partnership shows how FXCM Pro continues to be at the forefront of adopting institutional-grade trading technology to ensure our clients are able to and trade with confidence and have the best tools at their disposal when it comes to sourcing liquidity and executing trades."