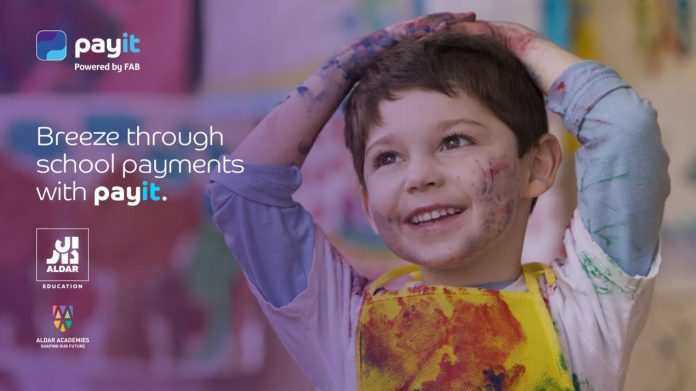 Payit digital wallet, powered by First Abu Dhabi Bank (FAB) has partnered with Aldar Education the leading Emirati private education provider, to launch a new digital fee payment service for its schools.
Using payit's newly launched fee collection module on its state-of-the-art digital platform, the partnership provides a complete and simple solution to start collecting payments digitally, while parents will benefit from the convenience of paying school fees and any other payments via the app, in a complete and seamless hassle-free cashless experience.
As the leading Emirati private education provider, Aldar Education currently operates a network of 20 schools across Abu Dhabi and Al Ain. Aldar Education is among the first adopters of payit's digital fee collection module, built exclusively for schools and educational institutes. The module offers a seamless method for collecting recurring payments which can easily be set up, offering real-time notifications and a purpose-built portal and auto report generation for seamless reconciliation and back-office operations. The module can be customised to suit specific business requirements, and enables customers to benefit from targeted value promotions and campaigns from FAB ecosystem partners.
Ramana Kumar, CEO of Magnati said: "We are very pleased to support Aldar Education with this partnership, which will be a win-win for both parents and schools and is in line with our ambition to support the transition towards a cashless economy. Using payit's technology, Aldar Education will now be able to accept cashless, digital payments across all its schools, from recurring payments such as school fees to one-off fees such as field trips. This engagement is just a start as we collaborate with Aldar Education to fully leverage on the power of our platform and build digital use cases focusing on parents and students alike.  This partnership will enable Aldar Academies to focus more attention on delivering educational excellence for students."
Chris Wilson, Chief Financial Officer at Aldar Education said: "We are delighted to have partnered with FAB to provide parents with a seamless and hassle-free payment experience through payit. With technology in the digital era changing the way that we interact and conduct business, it was important for us to find a solution that works for our families. Partnering with payit provides an easy-to-use and uninterrupted payment system that complements the flexible payment plans we offer to support our parents."
He added: "At Aldar Education, we place innovation and digitalisation at the forefront of everything that we do, striving to meet the needs of our school community and to provide the most advanced services available in education to our parents and students alike."
Launched in 2018, payit is the UAE's first fully featured digital wallet, and the first lifestyle payment wallet in the UAE accessible from any smartphone. The safe and secure service is available to anyone with a valid Emirates ID, regardless of who they bank with, and the sign-up process takes less than two minutes.
Using payit, Emiratis and residents can send and receive money instantly, 24/7, make purchases at partner merchant outlets, websites or even on the payit marketplace with the convenience to split bills with friends and track their spending. Users can also make zero fee international money transfers to selected countries, allowing for secure, predictable and fast delivery of funds to their bank accounts, mobile, and digital wallets with a few clicks on the app.
Download the payit app from the App Store or Google Play Store. For more information, please visit https://www.payit.ae/.