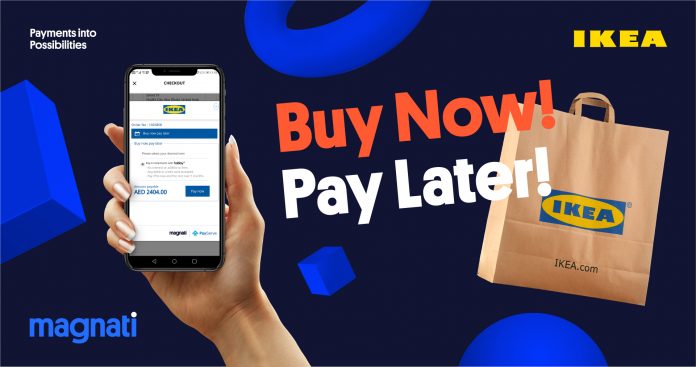 Magnati, a fully owned subsidiary of First Abu Dhabi Bank (FAB), has partnered with Al-Futtaim to enable its Buy-Now-Pay-Later option on IKEA's website. The solution is offered in collaboration with fintech start-up tabby.
This partnership further consolidates Magnati's position as the leading payment service provider in the UAE and is powered by Magnati's 'Payment as a Platform', an API-driven platform which seamlessly drives multiple payment options for merchant partners.
Salim Awan, MD, Institutional Payment at Magnati, said: "Further demonstrating our commitment to our merchant partners to offer them a seamless payment experience, we are pleased to extend tabby's Buy-Now-Pay-Later solution to our online acceptance platform. This is powered by Magnati's Payment as a Platform offering where merchants can integrate with our API-driven payment layers in the shortest possible time and thus benefit from multiple payment options to enhance their customer's checkout experience. This is one of the many solutions that demonstrates Magnati's vision of transforming payments into possibilities."
Paul Carey, EVP Cards & Payments at Al-Futtaim, commented: "We're really excited to launch Buy- Now-Pay-Later for IKEA online with tabby in the UAE, enabled by Magnati's payment platform. This is another milestone in our drive to offer our customers flexibility and choice in the way they pay."
With tabby's online Buy-Now-Pay-Later solution, customers can instantly make purchases and pay using interest-free instalments of up to three months by registering with their mobile phone number and Emirates ID, and linking either a debit or credit card.
This collaboration is the latest in a series of partnerships supporting Magnati's objective to become the payment platform of choice, and to drive more digital solutions across the UAE and the wider region.
Magnati is the carve out of FAB's payments business and its transition from a transactional to a data-driven and platform business. Magnati is a fully owned FAB subsidiary, strengthening the Group's leadership position in the rapidly expanding payments sector and accelerating its digital transformation agenda.
Visit www.magnati.com for more information.