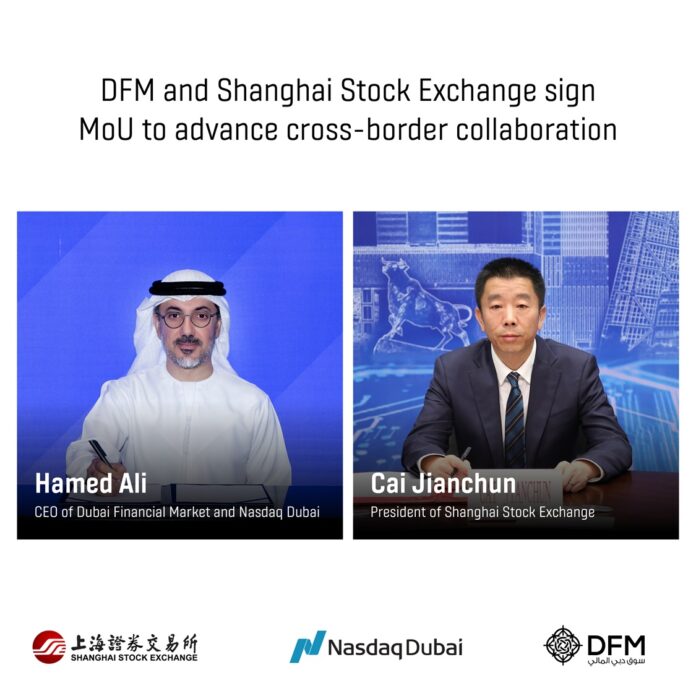 The Dubai Financial Market (DFM), Nasdaq Dubai, and Shanghai Stock Exchange (SSE) announced the signing of a Memorandum of Understanding (MoU) to further strengthen the ties between the capital markets of Dubai and China. This partnership marks a significant milestone in cross-border collaboration.
The partnership not only facilitates the exchange of knowledge, expertise, and information between DFM, Nasdaq Dubai and Shanghai Stock Exchange (SSE), but also aims to enhance efficiency and transparency in both markets. Moreover, focusing on products relevant to both markets, it will facilitate joint product development, such as Index and ETFs, as well as the creation of ESG and sustainability-linked products.
As part of the strategic alignment to meet the evolving needs of both market participants, DFM and Shanghai Stock Exchange will jointly explore to develop products, introduce companies and issuers to the advantages of each market and provide them with access to growth opportunities and services.
Hamed Ali, CEO of Dubai Financial Market and Nasdaq Dubai, remarked, "The partnership with the Shanghai Stock Exchange (SSE) marks a significant step in strengthening our international ties and fostering cooperation in key areas of our capital markets development. This partnership opens doors to exploring new opportunities and expanding our market reach."
He added, "In an evolving financial landscape, global collaboration is paramount. Together with Shanghai Stock Exchange, we aim to bring the best practices and expertise from both sides, unlocking new horizons for market participants and fortifying the growth of our financial ecosystems."
Cai Jianchun, President of Shanghai Stock Exchange, said, "We are pleased to establish partnership with DFM and announce our MoU signing to explore potential opportunities in corss-listing, indices, ETFs, ESG and other areas. We look forward to working closely with DFM to advance product cooperation and further strengthen the cooperation between two markets. Next, under the guidance of our regulator, China Securities Regulatory Commission, SSE will further deepen the high-standard opening-up to the world and continue to explore a diversified cooperation mechanism with stock exchanges in the Middle East region, to strengthen bilateral cooperation, explore multilateral cooperation, continuously enrich and deepen cooperation format."