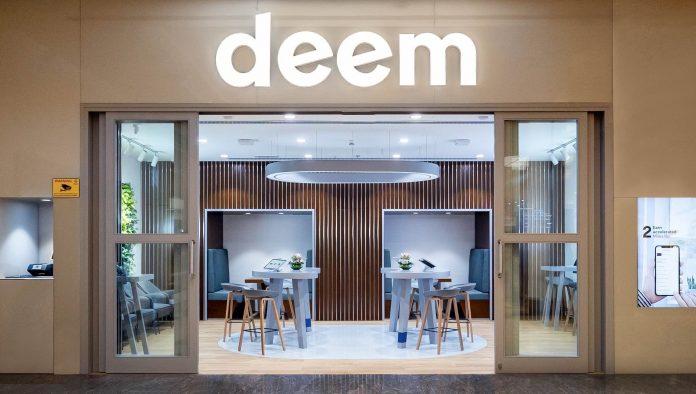 Deem Finance is continuing its expansion in the United Arab Emirates with the launch of a second branch in Burjuman Mall in Dubai, UAE. Aligned with Deem's digitally-led approach, the new branch is unlike a conventional banking branch, and is designed to offer an easily accessible conversational center for clients to use available electronic devices, such as tablets, to apply for products. Deem staff will be on-hand to guide and assist customers with their financial requirements, and provide a seamless, digital banking experience.
The launch of the second branch is an indication of the uptake of the convenient nature of financial services offered by the company, which is revolutionizing the financial industry in the region. Two further branches will soon be launched in Abu Dhabi and Al Ain, thereby expanding the footprint of the financial services provider. Deem's retail stores, which are unlike traditional bank branches, enables customers to carry out transactions in a unique, open-space environment.
Commenting on the launch, Chris de Bruin CEO, Deem, said: "We recognize that some of our customers want more guidance or to know more about our services. The opening of this branch allows us to fulfill this need and reflects the customer experience we deliver, as well as our continued growth. Since our founding, we have been highly committed to a path of innovation, focused on giving the customer a hassle-free experience. Despite being a relatively new brand in the industry, we are backed by some of the strongest shareholders in the region and our digitally-led approach sets us apart from legacy financial institutions. Today, no one has the time for unnecessary procedures or paperwork, and this is what we strive for through our business model – applying for our services or making transactions with us can be completed completely digitally, and is an easy, quick, convenient and paperless process."
First-time customers that want to apply for a Deem service or product can shape their own journey based on their preferences. For example, customers who prefer face-to-face interactions can visit any of Deem's branches to make an application or for more advice. However, the entire process can also be completed through online channels. Once submitting an application online, customers can have all formalities completed in a scheduled appointment with a Deem representative, who will visit their premises to collect their signatures and documentation.
Currently, Deem provides a portfolio of products and services including loans and credit cards, as well as corporate deposits. The company also plans to offer products related to protection and savings aimed at helping its customers safeguard and grow their funds. Additionally, the company is continually innovating to deliver future products that empower consumers' upward mobility and support their financial interests.
Given the rapidly changing consumer behavior due to technology and regulation, Deem is leveraging digitization as a vital part of its strategy. This will bolster the ability of its clients to manage their finances easily and conveniently.
Deem was created following the strategic re-purposing of an asset owned by Mubadala Investment Company, Fullerton Financial Holdings, Waha Capital and A.A.Al Moosa Enterprises LLC. The company has loans and advances of over AED 1 Billion, in addition to deposits.