Sriranga: Hello Tapas! Let's start with introductions about your bank and your role at the bank.
Tapas: RAKBANK is one of the most dynamic financial institutions in UAE, founded in 1976. The bank caters to various customer segments, ranging from retail, business banking and corporate. Business banking is one of our most successful enterprise areas, in which we deliver a comprehensive set of products. We also cater to conventional and Islamic banking. I head the architecture department at RAKBANK.
Sriranga: Thanks for that – change is the only constant. While clichéd, this can't be truer in the banking industry today than ever before. What are your observations about the evolving trends in banking today?
Tapas: Banking is undergoing significant changes at a pace never seen before. It is driven by rapid advancement in technology, changing customer expectations and continuously evolving regulatory landscape. Competition is emerging from all directions with fintech offering innovative financial propositions to challenge traditional banking models. One would have never expected Apple, Facebook or Google to play such a dominant role in finance. However, upon reflection we can see that this is happening due to their deep involvement in consumer's day-to-day life, where they have access to a real and relevant data about consumers, which they churn to improve services, provide personalised recommendations and targeted advertising. To top this off, all these companies have excellent user experience in their DNA. To me this combination of Data and user experience (UX) is extremely powerful as it allows them to influence customer behavior.
When we collaborate and compete with such players in the market, we need to better understand how we can further strengthen our customer journeys, data & analytics capability and ultimately attain actionable insights. These actionable insights allow better customer engagement, timely action, cross-sell and up-sell opportunities. Hence, building personalised customer engagement strategies, backed by data and customer events, is essential to stay competitive and relevant in today's market.
Lastly, generative AI is poised to be a major game changer for all industries including banking and it would be appropriate to accept that most of the existing processes can be enhanced. Simultaneously, it opens doors for a technology leap – virtual assistance, financial planning/Robo advisor, fraud investigation to name a few. There's enormous opportunity for us to capitalise on these trends.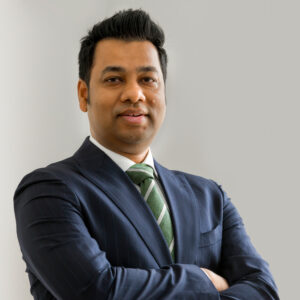 Sriranga: What are the implications for banks like yours? How is RAKBANK evolving with these trends?
Tapas: Our bank's vision is to be a digital bank with a human touch, to be with our customers in key moments of truth. We believe that customer obsession is the most important aspect. In this approach, we need to understand that it's not a finite game with fixed rules. We are in for an infinite game where we need to keep evolving to meet our understanding of customers' needs, with an efficient feedback loop to improve our products & services by leveraging latest technology and data. This is in line with our objectives to become the most personalised bank in UAE, with brilliant customer experience.
Sriranga: That's great. Now, coming to RAKBANK's digital transformation journey. Can you elaborate on RAKBANK's vision for your digital transformation?
Tapas: RAKBANK is currently undergoing a significant digital transformation, and this is an ongoing process that we are committed to.
If you look at digital transformation, it is a combination of various things, not merely about innovative technology adoption. Transformation is about changing the way we think – a mindset that challenges the status quo. It's about how we change things to deliver value and cutting-edge banking innovations to our customers; leveraging technology to simplify our processes and deliver brilliant customer experience. Finally, it should lead us towards achieving a sustainable competitive advantage.
We aim to be digital outside-in with our transformation. This means that we start with the customer and work our way back, using technology to create a seamless and enjoyable experience for them. To achieve this, we are focusing on enhancing UX across all the customer touchpoints, integrating our systems and processes to provide a unified experience. In addition, we are leveraging cloud capabilities for faster innovation. Finally, we are building data and analytics capabilities to provide deeper insights into our customers' needs and behaviors. By using data-driven insight, we are able to better understand our customers and create personalised experience that meets their unique needs.
Sriranga: We have a long-standing interaction between RAKBANK and Infosys Finacle. Can you elaborate on your experience of working together and expectations going forward?
Tapas: It is a strong partnership, and we utilise quite a bit of your technology in our digital transformation. Finacle is deployed as our core banking solution. We are leveraging Finacle solution in our channels, and our digital onboarding journeys are built on top of Finacle's digital engagement hub. It is a close collaboration between internal and Finacle teams to deliver an end-to-end solution.
Sriranga: Thank you Tapas. This was a great conversation and it's always been a pleasure working with you. We look forward to inspiring the next for RAKBANK.