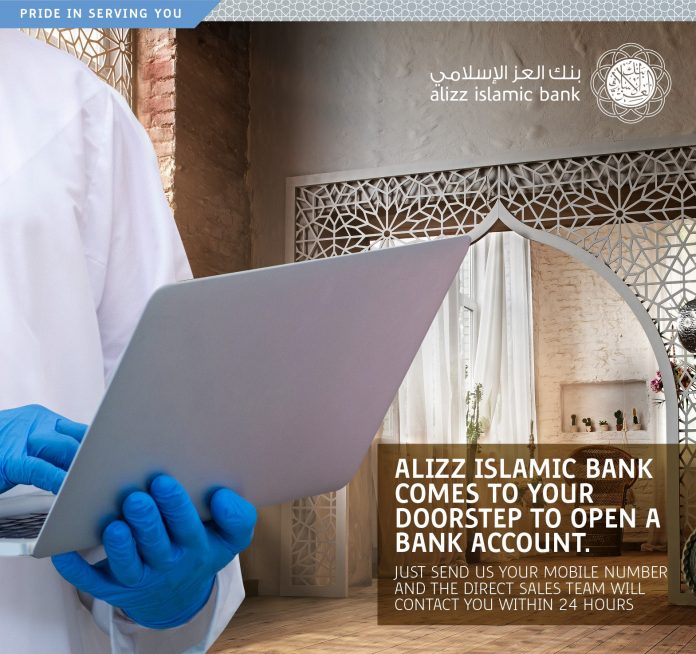 Reinforcing its position as one of Oman's most dynamic and innovative banking institutions and with a strong belief in enhancing the customer experience of its customer base Alizz Islamic Bank is the first bank in Oman to launch a 'We come to you' service whereby the bank visits customers in their homes or offices to open a bank account for them. This service has been received well and generated praise from the public
All a customer has to do is send a private message with their contact details to the bank on their social media platform of choice and the direct sales team coordinates with them within 5 hours to set up an appointment to visit them and open the account for them based on the customers chosen timing and preferred location.
Speaking about pioneering this service in the Sultanate, Mohamed Al-Ghassani, Assistant General Manager – Head of Retail Distribution and Wealth Management at Alizz Islamic Bank said: "At Alizz Islamic Bank our key focus is to provide the very best banking experience for our customers, whenever and wherever our customers need. Throughout the bank's history we have been at the forefront of customer service in Oman and we are delighted to further reinforce this with our 'We come to you' service which gives customers the flexibility of opening a bank account without the limitation of banking hours."
Al Ghassani added "We are extremely proud of being the first bank in the Sultanate to launch this service as it reflects the exceptional customer experience and high standards that we strive to deliver every day in our branches and other customer touch points. This service will further enhance our strong relationship with our customers and take our excellence in customer service to a whole new level. Alizz Islamic Bank's flagship product is the Bushra Prize Savings Account which is Oman's first Shari'a-compliant prize savings account that offers daily, weekly, monthly, quarterly, half-yearly and annual cash prizes and it continues to be very popular and this service will enable customers to open Bushra accounts with ease. Amongst the benefits of the account are that a customer also receives expected profit on their savings in addition to chances to enter the draws.
Since its inception in 2013, Alizz Islamic Bank has breached the gap between customers and the bank using innovative solutions and continues to do so.