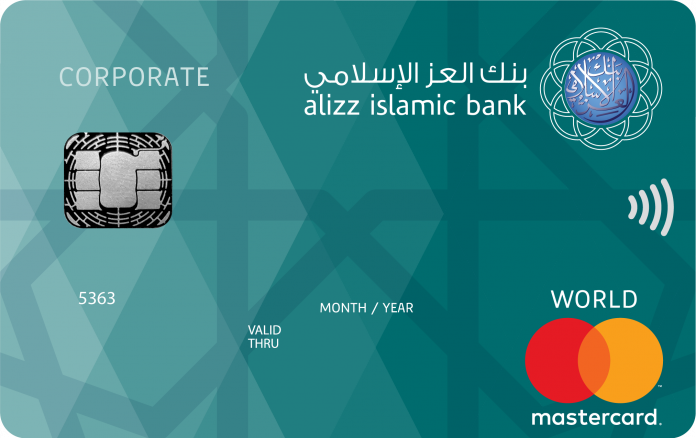 Alizz Islamic Bank, in collaboration with Mastercard, have announced the launch of Shari'a compliant corporate credit cards to provide clients with enhanced efficiency, flexibility, and convenience in managing their business expenses.
The new premium offering from Alizz Islamic Bank enables customers to seamlessly track and organize business related expenditures online. Additionally, the service offers cardholder level, department level, and company level statements for monitoring and accountability.
The corporate credit card product has been designed with business needs in mind. The offering enables corporates, businesses and SMEs to effectively manage their expenses, payables, and overall cashflow. It also provides better visibility over corporate purchasing decisions and general expenditures.
The Executive and World Mastercard credit cards will also offer a number of unique privileges and services including access to airport lounges in several major cities. Customers can also avail special dining, shopping, travel and entertainment offers and experiences.
Commenting on the launch, Muhammad Nadeem Aslam, Chief of Wholesale Business & Key Initiatives at Alizz Islamic Bank, said: "Alizz Islamic Bank was Oman's first full-fledged Islamic Bank to offer Shari'a compliant credit cards for retail customers and we are proud to follow that up with Shari'a compliant corporate credit cards for corporate and SMEs clients. The launch of this new strategic product falls in line with our objectives to cross sell new products to our corporate client base and further strengthen our relationships by providing innovative business solutions."
Aslam added: "We are constantly striving to provide the right foundation and tools for companies and corporate entities, whether large, medium or small to operate their business with maximum efficiency through our suite of products. At Alizz Islamic Bank, our vision is to partner with businesses to help them identify the areas for growth and efficiency while recommending practical, cost-effective ways to make the most of the opportunities that arise."
Commenting on the partnership, Nadia Ghissassi, Country Manager, Qatar, Oman, Kuwait and Iraq, Mastercard said: "Islamic banking business solutions are becoming increasingly popular among consumers in the GCC and as a result, we have been working closely with financial institutions to develop products and solutions that cater to discerning consumer tastes. We are pleased to collaborate with Alizz Islamic Bank to introduce Shari'a compliant corporate credit cards to the Omani market and remain committed to supporting local businesses by delivering advanced and innovative services that make everyday payments simple, safe, and convenient."
All credit cards at Alizz Islamic Bank are based on the Shari'a principle of 'Qard Hasan' which is adopted by numerous leading Islamic banks all over the world and applied to all credit card products.
Alizz Islamic Bank's Wholesale Banking department provides a comprehensive range of Shari'a complaint solutions to corporate, commercial, and government institutions. The banks highly experienced team can help the organization achieve optimum efficiency, reliability, and above all, customer satisfaction.