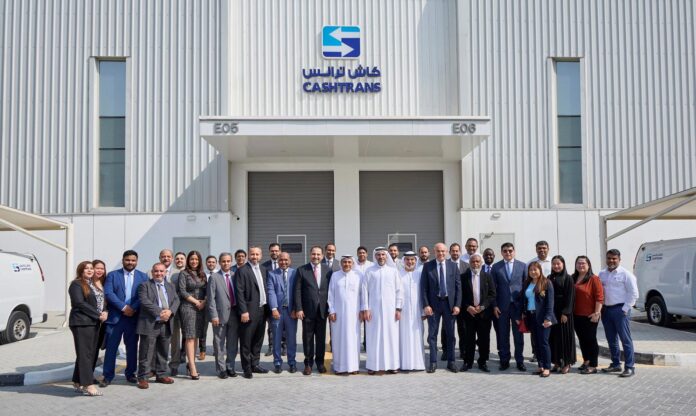 CashTrans, a subsidiary of Al Ansari Financial Services' PJSC inaugurated a state-of-the-art Cash Management Centre in Dubai to provide convenient access to a range of cash vault services that include the import and export of banknotes internationally, in addition to the services of transferring money and valuables locally, sorting, keeping and depositing them for companies and institutions throughout the UAE.
Strategically positioned in the secure Dubai CommerCity area, near Dubai International Airport, the Centre provides corporate clients' convenient access to optimised Cash Processing, Fitness & Emission Sorting and Vaulting services. Furthermore, the facility is fully equipped to manage the secure handling and storage of cash and valuable items. This development harmoniously aligns with the growth strategy of Al Ansari Financial Services PJSC, aimed at expanding its service offerings and increasing accessibility to enhance overall corporate customer satisfaction.
Rashed A. Al Ansari, Group CEO of Al Ansari Financial Services PJSC commented: "Our Cash Management Center in Dubai stands as a testament to our unwavering commitment to delivering exceptional services to our valued corporate customers in the UAE. With cutting-edge technology, a highly skilled and dedicated team, and a resolute focus on exceeding customer expectations, we are well-equipped to address the cash collection, delivery and management requirements of institutions and corporate entities across the nation."
He further added, "Our steadfast dedication to excellence ensures that our customers enjoy real-time visibility and swift access to their funds, fostering trust and reliability in our partnership. Beyond our core services, we are deeply committed to elevating industry standards for armoured vehicles, not only to meet our clients' needs but to consistently surpass their expectations."
Spanned across more than 20,000 square feet, the Cash Management Centre is equipped to cater to the entire range of cash management services for the corporate sector in the UAE. The Centre has a 24/7 command and control room and multi-layered security protocols to ensure the required security and compliance levels in line with international best practices. Leveraging cutting-edge technology and advanced cash processing equipment, the Centre achieves the desired efficiencies, greatly benefiting both CashTrans and its clientele. Furthermore, all the cash movements within the Centre or between the Centre and customer locations are tracked in real time.