Abu Dhabi Islamic Bank (ADIB) introduced new integrated digital kiosks – branded 'Smart Tellers' by ADIB – across key UAE branches in partnership with Diebold Nixdorf, an American multinational finance and retail technology company.
The Smart Tellers offer the services of a mini-branch and are available all days of the week, allowing customers to access a wide variety of banking services and products that are not typically available through traditional ATMs, such as: instantly obtaining a personalised card and updating account details. The Smart Tellers will enable customers to speak directly to an ADIB advisor through a video link, transforming the customer journey into a faster and more convenient experience which is available 24 hours a day.  Customers will be able to conduct all routine teller services such as cash deposit and withdrawal, cheque encashment including coins, cheque deposits and internal fund transfers. Additionally, customers will also be able to carry out a variety of banking services such as updating their personal details, requesting for a cheque book and authenticated statements, as well as apply for a personal loan without having to wait at a bank counter.
Ahmed Ateeq Al Dhaheri, Head of Branches – UAE at ADIB said: "The introduction of Smart Tellers to ADIB's branch network represents another channel for customers to access essential banking services in a fast, secure, and convenient manner. Whether opening an additional bank account, applying for a new card, or managing finances, the self-service kiosk makes customers lives easier. Our plan to install more Smart Tellers in key UAE locations further demonstrates ADIB's commitment to provide innovative digital solutions that improve customers' banking experience."
Habib Hanna, Managing Director Middle East, Diebold Nixdorf, said: "Client-centric innovation is paramount for both ADIB and Diebold Nixdorf. That's why we are honoured to participate in this new phase of ADIB's digital transformation journey. This fully-digital solution has been designed first and foremost with the customer in mind, not only to enhance their banking experience but also to provide all the necessary guarantees for secure transactions. For ADIB, this innovation in their self-service channel will ultimately optimize the performance of their operations whilst allowing for significant cost efficiencies."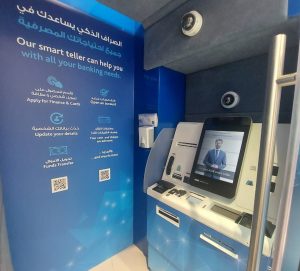 The Smart Tellers technology is enabled by Diebold Nixdorf's Vynamic™ Connection Points, a flexible and multi-vendor self-service software allowing the implementation of customised applications, and comes equipped with a debit card dispenser, biometric signature pad, an A4 document scanner and statement printer, a specialized ID card reader, a cash machine for withdrawals and deposits and coin dispenser as well as an NFC (near field communication) receiver for contactless transactions
Several of Smart Tellers have already been installed in ADIB branches across Abu Dhabi, Al Ain, Ras Al Khaimah, Dubai and Sharjah, and the bank is committed to installing more in other locations over the coming months.