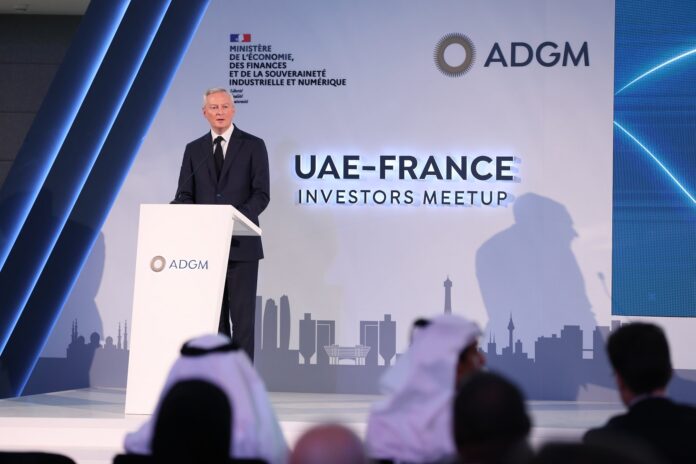 Abu Dhabi Global Market (ADGM), the leading international financial centre of the UAE's capital city received the official delegation from France today, led by His Excellency Bruno Le Maire, the French Minister of Economy, Finance, and Industrial and Digital Sovereignty, to accelerate the bilateral relations through exchange of dialogues on investment opportunities and areas of collaboration within UAE-French financial landscape.
The event brought together the vital parties of UAE and French finance ecosystems such as sovereign wealth funds (SWFs), banks, investment managers, advisors, and financial centres with an aim to deploy strategic and innovative partnerships between the UAE and France, that support in facilitating French global businesses to be based in Abu Dhabi and the wider region of the UAE. Dialogues were exchanged through an open platform discussion along with closed-door sessions and roundtables.
Along with the French minister, the French delegation to Abu Dhabi included representatives from Bpifrance, BNPP, Société Générale, Ardian, and 14 other private equity fund managers.
A world-leading French-origin private investment firm, Ardian opened its new office on ADGM's international financial centre and was inaugurated by His Excellency Bruno Le Maire. ADGM is home to an increasing number of French companies including renowned anchor tenants such as BNP Paribas Group.
Commenting on the successful delegation, Dhaher bin Dhaher Al Muhairi, CEO of ADGM Authority said, "ADGM is pleased to host the French delegation in Abu Dhabi. As a regulator and policymaker, ADGM believes that investment is one of the main pillars of the strategic partnership between UAE and France and the essence of diversifying and expanding the scope of our mutual ties. Both countries are highly committed to exploring new collaborations at corporate and institutional levels while also strengthening existing partnerships. Strategic dialogue between the leadership and prominent businesses in both countries helps in leveraging each other's diverse range of resources and capabilities to bolster development programmes in both countries."