Crossing the chasm
In Geoffrey Moore's Crossing the Chasm, he breaks down the technology adoption cycle into five stages: innovators, early adopters, early majority, late majority, and laggards. The point at which a technology crosses the chasm is when it moves from early adopters to the early majority. This is where it moves into mainstream usage. This is where we are today with cloud technology in wealth management according to research from Gartner, which put usage at 23%.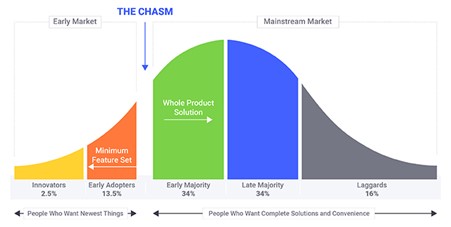 Running out of objections
In the years I've been discussing cloud deployments with financial institutions, objections have been progressively disappearing.
Initially, people would cite concerns over security. However, since that time, it's become clear that large cloud providers can spend more on physical and cybersecurity than any individual bank, regardless of size. Last year, Microsoft spent over $1 billion on cybersecurity.
Then, people would cite concerns about regulation. But regulators all over the world have realized that cloud computing can lead to better customer outcomes. First, by lowering infrastructure costs, it lowers barriers to entry and gives customers access to more choice. Second, by offering a secure, scalable backbone to the financial services industry, it improves service availability and instils greater trust. As a result, most regulators have moved from a position of reticence to acceptance or – in many cases – open endorsement.
The key input from regulators is clarity. Where regulators impose restrictions, such as around data residency, infrastructure providers can easily accommodate these by using local data centres or through encryption, while still deploying applications in the cloud. However, where the regulators do not give clarity, this creates uncertainty that hampers widespread adoption and is the case in many countries in Africa. The good news is that, in the Middle East, regulators such as the Abu Dhabi Global Market (ADGM) and the Saudi Arabian Monetary Authority (SAMA) have all issued clear guidance.
The economic case
So, with the objections disappearing, the focus increasingly turns to the benefits of cloud computing. The first of these is economic. Cloud computing allows institutions to effectively pool economies of scale, driving down unit costs for everyone. But it's also elastic, meaning that an institution uses the computing resources it needs when it needs them – rather than buying enough hardware for an anticipated peak load – which reduces both risk and cost.
Overall, deploying in the public cloud cuts infrastructure costs by as much as 80% compared to an on-premise installation, in our experience.
The operational case
The benefits of cloud computing extend much further than economics, however. Cloud computing is catalyzing a new era of enterprise IT. Before cloud computing, building and/or deploying new applications – and upgrading them – took significant time and effort to install, integrate, configure, and test. And so organizations rarely did it. Now, we've moved to an era where fast experimentation and continual delivery of new services are becoming the norm. This is increasing the rate of innovation – again, a boon for consumers – but it's also changing the nature of enterprise IT. When integration is no longer an overwhelming concern, as is the case with SaaS, the value-add has to be greater because switching costs are lower. At the same time, usability also has to be better. In effect, both the enterprise buyer and the end users of the software have to be convinced of the (ongoing) value of their applications.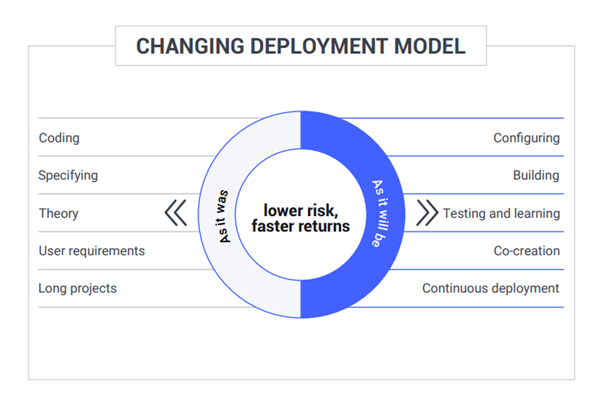 At additiv, we're ready for this new world of mainstream cloud computing, but not because we can deploy our platform in the cloud. We're prepared because we are culturally and operationally aligned to user-first, API-first agile development so asset managers can move as fast as fintechs.
About the author: Based in Dubai, Zaki El Khoury is Managing Director for UAE at additiv, a global SaaS provider to the wealth management industry working with many of the world's largest banks and asset managers