SunTec Business Solutions will host a webinar on "Offering the Best Deals, Personalized to Each Bank Customer," featuring speakers from Mashreq, a leading financial institution in the UAE and Arise, a leading African investment company on 18th November 2020 at 9:30AM SAST / 11:30AM UAE / 1:00PM IST.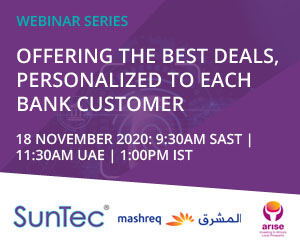 If banks are to retain customers and enhance their own revenue, it is imperative for them to design and offer innovative deals, offers, pricing, and discounts that are contextual and help drive overall engagement and relationship value. But how can banks achieve such a high level of customization? It is possible only when they have a 360-degree view of each customer in real time.
In this webinar, our speakers will share insights into how banks and financial institutions can enrich customer relationships by offering choice, transparency, and fairness to each customer. Learn how the most progressive bank in the UAE drives customer-driven innovation by closely engaging customers, analyzing customer behavior data and designing tailor-made products and services. Also discover how to align products, processes, and technology to elevate customer experience.
Click on the link to know more and register – https://www.suntecgroup.com/offering-the-best-deals-personalized-to-each-bank-customer/
Key takeaways from this webinar include:
The need to understand customers, restructure interactions, and re-engineer processes to design relevant offers, discounts, and pricing based on the holistic relationship value across customer and customer groups
How to build a real-time 'Segment of One' strategy with a robust enterprise Pricing & Billing and Offer Management program
How to respond with speed and agility to growing customer expectations
Duration: 1 hour (including 15 min Q&A)
Our Speakers:
Rohit Garg
Rohit Garg is the Head of Business Banking and NeoBiz at Mashreq, the UAE's leading financial institution. NeoBiz is the first digital banking proposition in UAE that offers customized and specifically tailored digital offerings for SMEs including start-ups and young businesses in the UAE.
Rohit has over 24 years of work experience which spans across all aspects of Commercial, SME and Retail banking in countries across South Asia, Middle East and Africa. Prior to joining Mashreq, Rohit held senior positions including the Regional Head of SME and Business Banking for Africa and UAE at Barclays Bank and the National Head of SME liabilities at Standard Chartered in India.
Clinton Abbott
Clinton Abbott is the Director for Banking and Innovation at Arise, a leading African investment company. He is a diversified core banking and IT specialist, who is passionate about spearheading functional design within the banking sector both locally and abroad to enhance the customers banking experience.
A seasoned expert with more than 25 years' experience across multiple core banking platforms he has played an instrumental role in using technology and innovation to transform banking systems across the globe. Prior to joining Arise he fulfilled the role of Head of Functional Architecture at Standard Bank.