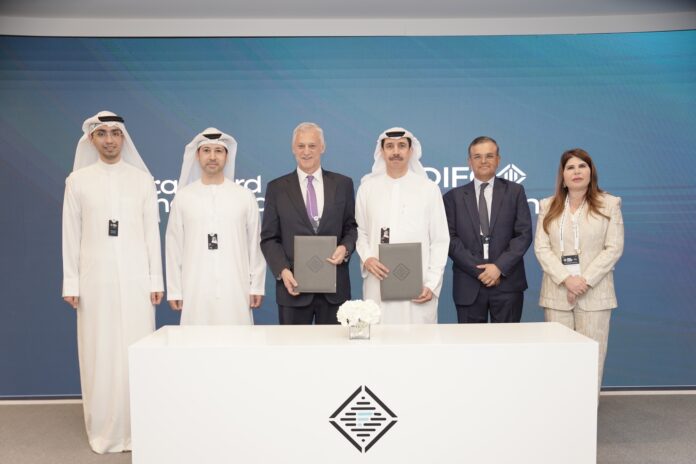 Standard Chartered signed a memorandum of understanding (MoU) with Dubai International Financial Centre (DIFC) to collaborate on digital assets, including digital asset custody.
Subject to regulatory approval, Standard Chartered plans to launch digital asset custody services, starting in DIFC and to cater to institutional clients around the world. As a market leader in the Securities Services industry, Standard Chartered is an early mover in developing services to provide custody of digital assets, including cryptocurrencies.
Drawing on its own international expertise in traditional custody, its new services will be powered by its subsidiary Zodia Custody, which has best-in-class operational and technical capabilities suited to needs of institutional clients.
Signed at the Dubai FinTech Summit by His Excellency Essa Kazim, Governor of DIFC and Bill Winters, Group Chief Executive Officer of Standard Chartered, the MoU aligns with Dubai's vision to be at the forefront of the future of finance.
During the signing ceremony, Bill Winters said: "We see digital assets as an important part of the future of financial services and we are committed to investing in the infrastructure and talent necessary to be a leader in this space. The UAE has a well-balanced approach to digital asset adoption and financial regulation, making it an ideal first market for us to launch our digital asset custody proposition."
The Bank and DIFC will also collaborate on opportunities to promote a vibrant and thriving digital assets ecosystem that benefits Dubai and the wider UAE economy. The MOU will foster close cooperation for the Bank's wider digital assets agenda in collaboration with the DIFC Innovation Hub, the region's leading ecosystem for start-ups and scale ups.
HE Essa Kazim, Governor, DIFC, said: "The Dubai FinTech sector has emerged as a key driver of innovation and economic growth much in line with the Government's Dubai Economic Agenda (D33) to become a top 4 global financial hub. DIFC welcome collaboration with partners such as Standard Chartered to further accelerate growth, enable collaboration that triggers new innovation, as we continue to shape the future of finance together".
Standard Chartered was the platinum sponsor of the premier Dubai FinTech Summit which took place earlier this week. The Summit proved to be the perfect platform to connect start-ups, investors, and industry leaders.
In 2006, Standard Chartered became the first bank within the DIFC to purchase its own premises. This partnership is a natural outcome of the bank's long-term commitment to the United Arab Emirates and to the wider region. The Bank runs all of its regional activities for Africa & the Middle East, as well as some of the global roles, from the UAE. This includes its Islamic Banking arm, Saadiq.