KPMG published the latest edition of its "Banking Pulse," a quarterly report series, highlighting the latest developments in the Kingdom's banking sector following the publishing of third-quarter 2021 financial results by Tadawul-listed banks.
The Kingdom's banking sector continued to post strong results without reporting any single domestically significant credit default in corporate lending, registering a 6.3% growth in total assets since December 31, 2020, and at least a 12% jump in net income in the nine-month period year-on-year.
"The banking sector continued to lead the charge towards recovery in the first nine months of FY 2021, thanks to sustained strong growth in mortgage finance, the total lending exposure of Saudi banks to the private sector is edging towards a phenomenal SAR 2 trillion mark" commented Khalil Ibrahim Al Sedais, Office Managing Partner – Riyadh KPMG in Saudi Arabia.
On September 30, 2021, the sector's total deposits crossed the foregoing landmark for the first time. Simultaneously, the net credit loss charges for the sector, which started to build up since March 2020, continued to decline – a cumulative decline of 18% year-on-year during the reported nine months. Overall, the sector's net profit after zakat and tax rose to SAR 36.28 billion in Q3 2021.
Despite the inevitable adverse effects of Covid-19, these statistics continue to remind us of the successful initiatives taken by the government, regulators and banks, Al Sedais noted.
The banking sector reported an average decline of 18.3% in expected credit losses (ECL) to SAR 9.7 billion for the nine-month period ended September 30, 2021.
According to the KPMG report, the Saudi banking industry is reflecting consistent themes of efficiencies through digitalization and accordingly number of bank branches across Saudi Arabia have declined by 5% over the last year to under 2,000, while the number of ATMs increased considerably.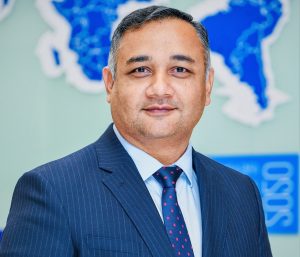 "The rise of digital banking during the pandemic was undoubtedly a contributing factor to this phenomenon. The recently issued licenses to STC Bank (formerly STC pay) and Saudi Digital Bank as the first digital banks in the country are a potent reminder of the digital imperative and Vision 2030's objective of increasing non-cash transactions to 70% by 2025," said Ovais Shahab, Head of Financial Services, KPMG in Saudi Arabia.
"In our latest KPMG CEO Outlook, 78% of surveyed CEOs in Saudi Arabia pointed to increased demands from stakeholders- including investors, regulators and customers, for enhanced reporting and transparency on ESG issues. Growing exposure to global financial markets and heightened attention from ratings agencies have invigorated Saudi banks on their ESG priorities," Shahab concluded.