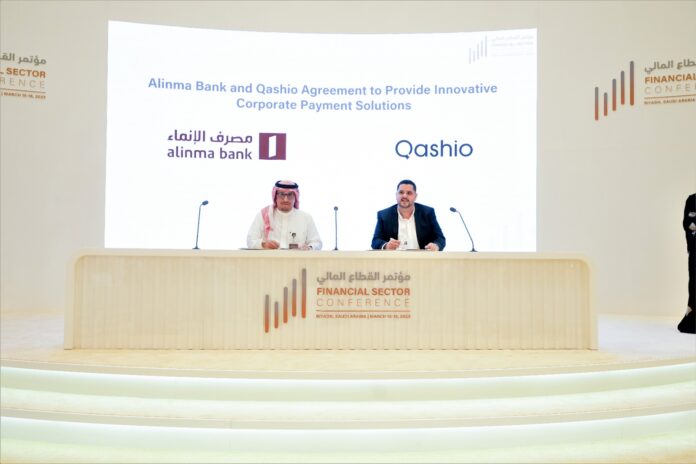 Spend management fintech Qashio has entered an exclusive partnership with Alinma Bank, the youngest and fast-growing bank in KSA, to launch its operations in the Kingdom. This is the first time that a KSA bank has joined hands with a fintech company to provide solutions to its corporate banking customers, a massive milestone for the country's tech space.
With this partnership, Qashio can roll out both its SME & Enterprise-grade spend management platforms to its customers in the country. The fintech solutions are also available to Alinma Bank's vast number of corporate customers, benefiting both the bank's and Qashio's KSA customers. Businesses can now issue KSA corporate cards to be used for their employees in KSA without running the risk of suspension and withholding tax Bahrain-issued SAR cards. These integrated corporations will come with advanced control/limits, accounting integrations, and enterprise-grade workflows.
This falls in line with KSA's Financial Sector Development Program under Vision 2030, which is aimed at developing a sustainable and thriving cashless society, increasing the share of non-cash transactions from 36% in 2019 to 70% in 2025. The primary method to achieve this is through uplifting fintechs present in the country. In fact, Mastercard's report on 'The Future of Fintech' revealed that KSA funding increased by 1294% in 2021 from 2020, amounting to $91 million.
Alinma Bank has been at the forefront of digital financial services in Saudi Arabia, and Qashio has been enabling digital payments for businesses across MENA. This association between two industry leaders highlights the joint vision of both parties to introduce market-leading products to support businesses and contribute towards the digital payments vision set forth by the Saudi Central Bank (SAMA).
Commenting on the partnership, Abdullah Khalid Alsalloom, Deputy General Manager – Cards, Alinma Bank, said: "This partnership brings together Qashio's leading expense management platform along with deep technology and domain experience together with Alinma Bank's expertise in digital banking and local market knowledge of the wider banking ecosystem."
Armin Moradi, CEO and co-founder of Qashio commented: "This partnership with Alinma Bank is a move to align with Saudi Arabia's efforts to adopt fintech-friendly approaches and increase the presence of fintech firms in its market, in line with its Vision 2030 initiative. Qashio is dedicated to helping companies eliminate manual finance processes, offering a solution that is secure, safe, and ready for use by both large enterprises and SMEs."
Qashio has signed renowned brands and customers across KSA and UAE and continues onboarding clients. These include well-known brands such as Nana, Swiss International, Alabbar Enterprises, Kitopi, Maids.cc, Yaa Foods, Al Shiha Group, Tasoru Holding, Instashop, Saif Belhasa, EFS Facilities Management Services Group, Papa Johns, Bulldozer Group, etc.
Qashio's international investors are excited about its entrance into Saudi, including Rocketship VC, a well-known Silicon Valley fund. Other supporters include Iliad Partners, 500 Sanabil MENA, Nuwa Capital, National Dimensions Investment KSA, Phoenix Investments, and strategic family offices and angels.
According to VISA, the total business-to-business expense in 2022 was $750 billion in KSA. Global Business Travel Association (GBTA) revealed that on average 1 out of 5 reports have errors. Companies process around 51,000 expense reports each year meaning companies around the globe spend, on average, approximately half a million dollars and nearly 3,000 hours correcting errors in expense reports annually, highlighting the need for integrated spend management software.
Qashio's virtual and physical cards combined with its software allow businesses to manage their spending more automated and transparently, saving hundreds of man-hours and reducing petty cash leakage in the process. Finance and HR departments benefit from better expense reporting, better visibility, control of cash flows and an empowered workforce.