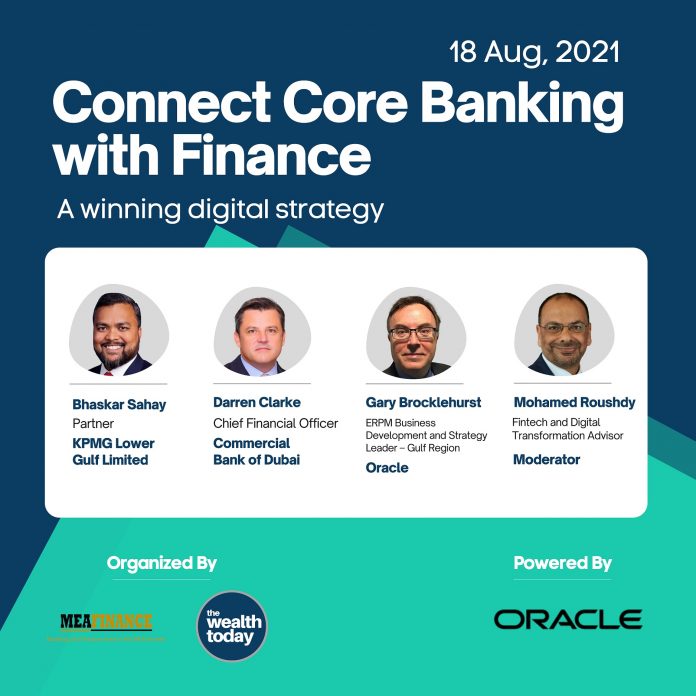 On the 18th of August, Oracle and MEA Finance, in partnership with The Wealth Today, hosted the Connect Core Banking with Finance- A Winning Digital Strategy webinar. Featuring three varied and inciteful sessions, the webinar highlighted the real opportunities for driving growth, creating new business value, unlocking business potential and enhanced experiences for banks and their customers in the region that a well implemented digital strategy can bring.
The event started with a presentation by Bhaskar Sahay, Partner, KPMG Lower Gulf Ltd., who highlighted the challenge of digital maturity and how system complexity, competing priorities, and skills shortage are barriers to succeeding in a digital world. Bhaskar noted that a common issue for bank CFO's is the challenge of sourcing quality data and its.
The next session, entitled Five Simple Pathways to a More Connected Banking Enterprise was moderated by Gary Brocklehurst, ERP Business Development and Strategy Leader at Oracle, leading a distinguished panel of experts that included Amit Lalloo , FSI Enterprise Architect, ECEMEA, Oracle, Vikas Tayade, Director, Intellicore Consulting Group, Ibrahim Badra, ERP Cloud Solution Consultant, Oracle, Lokesh Khatwani, Solution Engineer, Oracle and Murat Civelek, Senior Director, Constellation Consulting Group.
An illuminating session, the five pathways debated by the panel were: Effectively link core banking with finance and operations. Grow revenue with relationship level sales budget planning. Execute projects more effectively to expand geographies and open new channels to market. Leverage modern procurement to align sourcing to strategy. Seamlessly perform financial performance reporting and collaborate securely with confidence
The concluding session for the event, Financial Services Leaders Viewpoint, was led by Mohamed Roushdy, Fintech and Digital Transformation Advisor, with a team of speakers including panelists Darren Clarke, Chief Financial Officer, Commercial Bank of Dubai, Amit Lalloo, FSI Enterprise Architect, ECEMEA, Oracle and earlier presenter Bhaskar Sahay, Partner, KPMG Lower Gulf Ltd.
The session debated the increased responsibilities of finance and procurement leaders now have in ensuring the overall success of the enterprise.
Oracle also made time to describe the Innovation & Sustainability Initiative, in which they and other businesses comprising the Technology Companies for the Environment Group are supporting the One Billion Tree Planting Initiative.