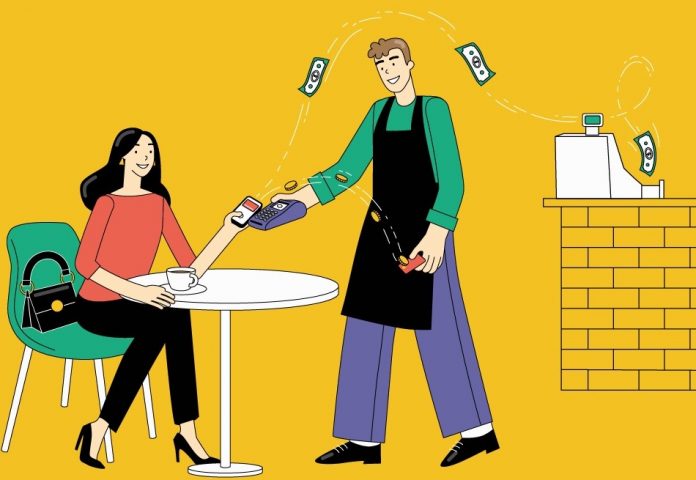 According to recent statistics by Visa, 80% of payments in restaurants are made with a card. Most of the time guests do not have cash on them to tip, and if the venue does not offer any option for cashless tipping, waitstaff are left without tips, which may represent for them a significant loss of income. Restaurants have an additional incentive to make tips cashless – they can keep track of how much their staff receives in tips.

The service sector offers several methods of cashless tipping, but many of them are inconvenient either for customers or for staff. In some countries, the customer adds the tip amount at the end of the bill in writing and the service worker adds this amount to the credit card transaction total. While simple and widespread, this method carries fraud risk since the tip amount can be rewritten later. Additionally, in many cases merchants have to distribute the tips to the staff themselves after they receive the reimbursement from their acquirer. This adds unnecessary complexity to the merchant's accounting. In other countries, there are tipping apps where a waiter can register and link their bank account. The waiter receives tips to this account. However, the customer must also download the app and register, which can bring inconvenience and friction to the payment experience.

OpenWay enhanced its Way4 Tip Payments solution to enable acquirers to integrate a digital tipping service into the standard card payment process. The customer enters a tip amount into the POS terminal during the payment, and tips are transferred directly to the service worker's card at the end of the daily shift. Customers do not need to install any additional apps and are not charged a fee for tip transfer. The solution can be used by all service sector workers – waiters, couriers, barbers, beauticians, taxi drivers, and others.

Acquirers can set up a fee that will be deducted from the tip amount before the transfer to cover their own expenses of card processing. Tip payments are recorded on dedicated accounts in the Way4 acquiring system and are not transferred to the merchant account together with reimbursements. This allows the tips to be excluded from merchant's taxable revenue. However, merchants can view tip amounts in statements provided by their acquirer. Transparency in tip accounting allows service sector merchants to assess the quality of service rendered by individual service workers.

The solution works with cards of any international payment system. If dynamic currency conversion (DCC) is used during the transaction, Way4 will send an authorization request to the issuer of the customer's card in the customer's selected currency and transfer the tip amount to the server's card in the local currency.

With the Way4 platform, acquirers can launch value-added services such as Level 3 data processing, tokenization, recurring payments, and loyalty to target different merchant segments, including HoReCa, airlines, marketplaces, subscription services, gas stations and large retail chains.