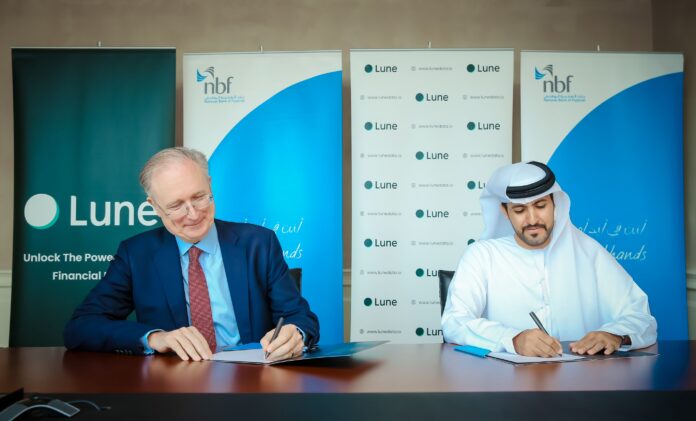 The National Bank of Fujairah (NBF), has signed a partnership agreement with Lune Technologies, an Emirati financial data analytics company to develop and deploy its pioneering Lune Data Enrichment and Insights Platform.
Lune will be deploying its Lune Insights solution, which leverages proprietary machine learning technology to convert raw customer payment and transaction data into valuable data points, enabling NBF to provide hyper-personalized, high-value financial services to its customers in the UAE.
Lune Insights empowers financial institutions to gain an in-depth analysis of customer spending habits and customer priorities, while empowering customers to understand their spending more clearly and enhance their financial awareness.
"We're thrilled to be partnering with NBF," said Helal Tariq Lootah, Co-Founder of Lune. "Our joint aim is to democratize financial data by providing end-users with the insights they need to make better spending decisions in the UAE."
"This partnership with NBF demonstrates the commitment of Lune, NBF and the UAE to provide quality financial services to customers in the UAE" Alexandre Soued, Lune's Co-founder added.
Vince Cook, Chief Executive Officer, National Bank of Fujairah, said: "We are delighted to partner with Lune Technologies to help provide our customers both deeper, actionable insights into their spending patterns, as well as more personalized financial advice to them. This latest partnership aligns perfectly with our strategy of introducing cutting edge digital solutions in areas where they can really add value and enhance the customer experience"
NBF continues to seek to be a partner for its customers, rather than just a provider. This means looking beyond its products and services, to help customers develop financial literacy through budgeting tips or cybersecurity advice, in order to help them achieve their financial goals. It also means balancing digital solutions with continuing human interaction. The new partnership with Lune extends and enhances this approach to customer service.