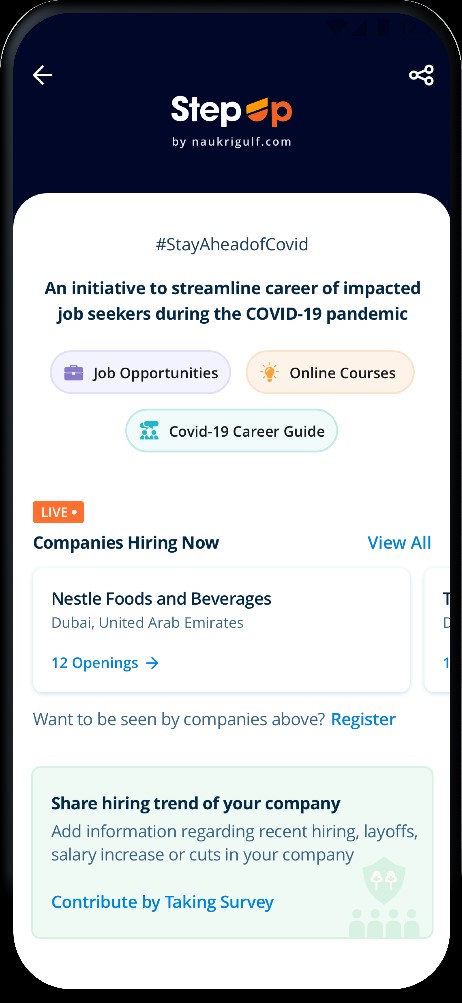 As the global COVID-19 pandemic continues to spread, much of the world's population remains in lockdown, subject to stringent stay-at-home orders. Welcoming the new normal has not been easy. The present scenario has compelled businesses to realign, re-invent, and reflect on their initiatives to help stakeholders overcome the situation with optimism.
With this thought, Naukrigulf, one of the Middle East's leading job sites launches the Step-Up initiative. The initiative is conceptualized with a single-minded vision of not letting the jobseeker community be bogged down by this crisis but emerge stronger. The Step-Up initiative takes form through a microsite hosted on the Naukrigulf platform with the sole aim of facilitating hiring and career progression via a host of special features launched to help jobseekers in these tough and uncertain times.
Under the Step-Up initiative, there will be a live tracker highlighting companies and industries that are currently hiring along with active jobs to apply to.
Naukrigulf has also curated FREE online courses basis recruiter demand to enable jobseekers to upskill and stay relevant across industries.
The step up blog section has handpicked articles around topics such as WFH productivity, online interview tips, skill sets in demand and many more to help jobseekers navigate these times. In addition to the above, there is an interesting section on hiring insights that help jobseeker understand what recruiters are searching for and prepare accordingly.
In addition, recruiters can easily search and hire from pool of 'immediately available' jobseekers who are impacted by the Covid-19 crisis.
Commenting on the initiative, Pawan Goyal, Chief Business Officer, Naukrigulf said, "At times of crisis, a small first step can spur a powerful revolution and it is with this spirit that we have launched the initiative – 'Step-Up' for jobseekers. Jobseekers will now have easy access to information regarding companies and industries that are currently hiring and in turn will be able to apply to relevant jobs. Also, there is a complete guide on career progression with upskilling courses, Hiring Insights, Articles etc. There are also plans in the pipeline to provide priority across and discoverability of recently laid off employees amidst the COVID 19 crisis."