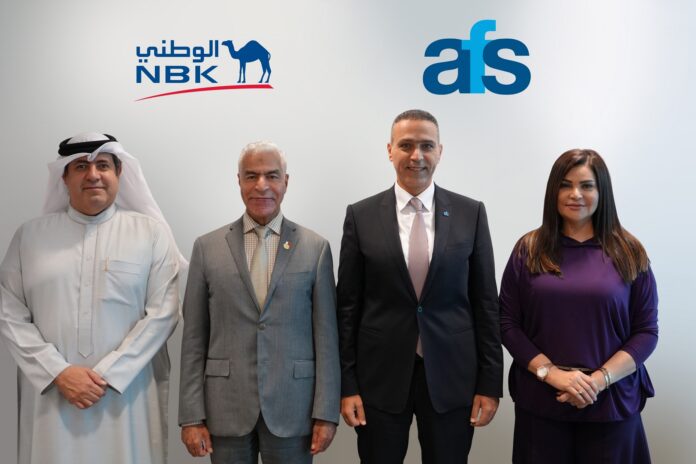 National bank of Kuwait (NBK) – Bahrain has announced that it will start providing its corporate clients with Point-of-Sale (PoS) services through a strategic collaboration with Arab Financial Services (AFS), the leading digital payment solutions provider and fintech enabler in the Middle East and Africa, and a leading merchant acquirer in Bahrain.
AFS's market-leading payments technology enhances the experience for all customers, giving merchants and corporate customers smart, secure, and convenient payments acceptance platforms with a variety of benefits and value-added services. The company's state-of-the-art payment tools can seamlessly integrate with existing merchant platforms.
Commenting on this partnership,Samer Soliman, Chief Executive Officer of Arab Financial Services (AFS) said: "We are pleased to offer NBK customers advanced technology that facilitates payment operations. AFS's pioneering payments technology will enhance the experience for all NBK customers, giving them a more convenient payment solution. In addition, our technology contributes significantly to the progressive expansion of digitized payment."
As the first smart Android-based, integrated PoS terminals in Bahrain, the AFS world-class payment acceptance solutions give merchants and customers access to state-of-the-art tools for payment. Additionally, AFS' many value-added benefits include acceptance of all major card schemes, multi-lane integration for hypermarkets, dynamic currency conversion, loyalty programs, easy payment plans, analytics, bill payment and merchant lending.
On his part, Ali Fardan, General Manager of the National Bank of Kuwait (NBK) – Bahrain commented: "We are pleased with our partnership with Arab Financial Services Company (AFS), the leading provider of digital payment solutions and enabler of financial technology in the Middle East and Africa region. These integrated payment solutions will support local payment systems and push financial technology as NBK seeks to serve its corporate clients with the latest and smartest payment methods."
Regulated by The Central Bank of Bahrain, and majority-owned by Bank ABC, AFS boasts numerous ground-breaking end-to-end digital payment services and solutions. These span debit, credit, and Islamic card processing, merchant acquiring, fintech, and a suite of state-of-the-art value-added services. Providing the highest quality payments solutions that are trusted by businesses, AFS has offices and data centers in Bahrain, the UAE, and Oman. Its dedication to innovation has positioned AFS as a driving market force delivering a rich portfolio of payment solutions including popular digital mobile wallets, market-leading merchant acquiring services, Bahrain's leading digital payroll solution, global contact centers and more.