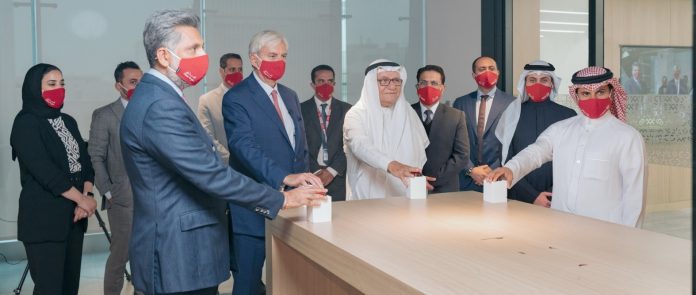 Bahrain's leading local bank National Bank of Bahrain (NBB) announced the launch of its new digital banking platform, built in partnership with banking technology provider Backbase, to support with their digital transformation journey, empower its staff to further deliver improved customer experience, and provide a seamless digital onboarding experience for retail customers. The partnership has enabled NBB to expand its retail banking offering by providing an upgraded mobile experience to its customers and improving operational efficiency – all while enhancing its ability to innovate at speed and scale.
NBB's new digital banking experience taps Backbase's Engagement Banking platform – a comprehensive suite of pre-built technology solutions allowing institutions to own and orchestrate every step of the customer journey – to create a new, modern mobile and online banking journey for customers with personalisation at the centre. Key features NBB's customers now enjoy include rapid, seamless onboarding – in less than 6 minutes – as well as instantaneous access to a full suite of banking services, such as account management, opening new lines of credit and debit card origination and others.
Backbase's Engagement Banking Platform allows NBB to rapidly deploy solutions across all their lines of business, enabling faster innovation and allowing NBB to bring new products and services to market quickly and efficiently.
Subah Al Zayani,  Chief Executive – Retail Banking at National Bank of Bahrain, comments: "As our customers' needs continue to shift, the ability to innovate quickly and pivot towards new digital technologies, channels and features is core to our strategy. Partnering with Backbase to accelerate our digital transformation and launch our new app has helped us more readily address our clients' needs throughout various stages of their customer journey, guaranteeing excellent service and a sophisticated experience. By creating a seamless, unified digital banking platform, we've been able to offer state-of-the-art onboarding for customers and positively impact each customer based on their personal needs – offering the right financial solution at the right time."
Matthijs Eijpe, Regional Vice President EMEA at Backbase, added: "We are thrilled NBB chose us to support their efforts to elevate their customers' digital banking experience. The launch of their new app has already demonstrated the tangible benefits of our partnership to the end user; however, as NBB continues to grow and enhance their digital capabilities, we are providing a scalable model that matches their customers' shifting demands both in a cost- and time-effective way, enabling NBB to enhance its infrastructure and processes to maintain its position as industry leader."
About Backbase
Backbase is on a mission to transform the broken banking system, so financial institutions don't just interact — they engage — with the people they serve.
That's made possible with the Backbase Engagement Banking Platform — powering all lines of business on a single platform, including Retail, SME & Corporate and Wealth Management. From digital sales to everyday banking, the platform's entire design focuses on a seamless and captivating experience for both customers and employees.
Industry analysts Forrester, Ovum and Celent continuously recognize Backbase's front-runner position, and over 120 large financials around the world are powered by the Backbase Engagement Banking Platform—including AIB, Barclays, Banamex, Bank of the Philippines, BNP Paribas, Bremer Bank, Islands, Citibank, Citizens Bank, CheBanca!, Discovery Bank, Greater Bank, HDFC, IDFC First, KeyBank, Lloyds Banking Group, Navy Federal Credit Union, PostFinance, RBC, Société Générale, TPBank, Vantage Bank Texas, Westpac, and Wildfire Credit Union. www.backbase.com