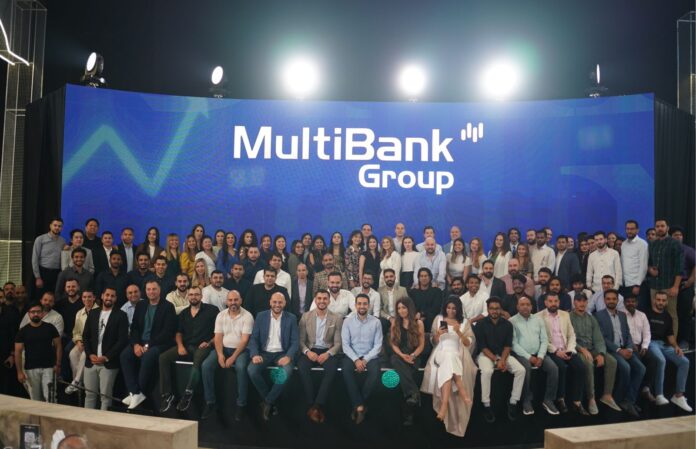 MultiBank Group, a leading financial institution, hosted a corporate iftar in Dubai on April 18, 2023, at Dana Ramadan Tent in City Walk. The event hosted over 200 employees and featured speeches by Salem Kattoura, MultiBank Group COO, and Zak Taher, MultiBank io COO, highlighting the company's achievements, future plans, and recent product launches.
In his speech, MultiBank io COO Zak Taher highlighted the launch of MultiBank io, a global digital exchange platform that will serve to create a world-first interoperable ecosystem. MultiBank io offers the newly launched Spot Platform, and the upcoming Derivatives Platform, to be launched in June. "Users will be able to buy, sell, and trade cryptocurrencies, while also facilitating fiat on-and-off ramps with multiple currencies including the US-Dollar and Euro" – stated Taher.
Additionally, Taher also unveiled plans for the Multibank FX new mobile app, scheduled to launch in June, along with the introduction of social and copy trading features for MultiBank FX and IO – all in one place. He also mentioned the highly anticipated MBG token launch, which is set to further enhance MultiBank Group's offerings.
MultiBank Group COO Salem Kattoura's speech reflected on the success of MultiBank Group, particularly in the UAE. He also emphasized the global reach of MultiBank Group, with over 500 employees worldwide, and the company's commitment to continuing its growth trajectory. Kattoura revealed MultiBank Group's plans for expansion, including upcoming licenses in Cyprus and Bahrain. He also revealed the expansion of their network with new offices in Thailand and Germany, in addition to the existing 25 offices worldwide.
The Iftar party was an internal event, exclusively for MultiBank Group's management and employees, and provided an opportunity for the team to come together. The location was specifically chosen since the Group has been the official sponsor of Dana Tent in City Walk throughout the holy month of Ramadan.
About MultiBank Group:
MultiBank Group was established in California, USA, in 2005. It boasts a daily trading volume of over US $12.1 billion and services an extensive client base of over 1,000,000 customers across 100 countries. MultiBank Group has evolved into one of the largest online financial derivatives providers worldwide, providing award-winning trading platforms and leverage up to 500:1 on products including Forex, Metals, Shares, Commodities, Indices and Digital Assets. For more information, visit https://multibankfx.com/.