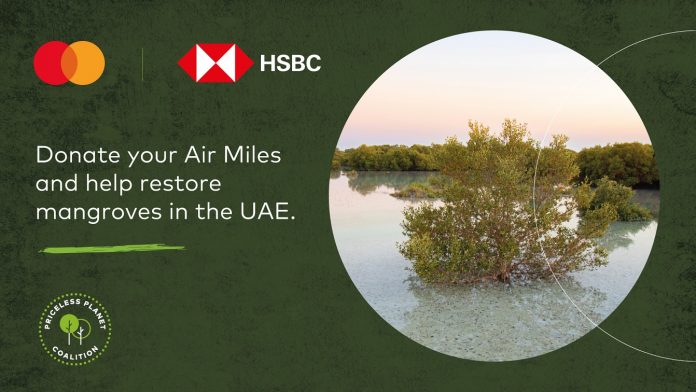 In the past year, consumer passion and individual attitudes towards the environment have seen a sharp rise. In the Middle East, 9 in 10 people say that they're willing to take personal action to combat environmental and sustainability issues, in a new research report released by Mastercard in April. This shows a growing trend toward sustainable spending and consumption among people who want to take meaningful action for the planet.
In another positive move for the environment, HSBC has announced its support for the Priceless Planet Coalition and its global goal of restoring 100 million trees, by enabling HSBC cardholders in the UAE to donate their Air Miles towards restoring mangroves. Mastercard formed the Priceless Planet Coalition last year to unite the efforts of consumers, financial institutions, merchants and cities to fight climate change.
Cardholder donations will contribute to the Priceless Planet Coalition which applies a restoration model focused on re-growing forests in geographies with great potential for a positive climate, community and biodiversity impact. In increments of AED50, cardholders can redeem 7,000 Air Miles to donate to help restore mangroves. On the other hand, a redemption of 21,000 Air Miles will contribute to planting and preserving one mangrove tree. Raised funds will be handled by Emirates Red Crescent on behalf of Emirates Nature WWF—Priceless Planet Coalition's UAE tree planting partner.
With an area of over 150 km2, the UAE enjoys the largest mangrove coverage in the region. The restoration of mangroves can be an effective nature-based solution to capture CO2 and mitigate climate change and its impacts, as mangroves can store up to four times more carbon than tropical forests¹.
HSBC Mastercard credit cardholders earn Air Miles every time they use their card for spends at physical stores or online. These Air Miles can then be redeemed against the Priceless Planet Coalition on the Air Miles website and app.
"Every tree in a stronger ecosystem puts us in a better position to address mounting environmental concerns. To help us on this journey, effective partnerships, local relevance and creative engagement initiatives like these are important, especially as the Coalition aims to activate multiple positive contributions from consumers, businesses and other organizations. Mastercard's passion for the environment's welfare is inextricably linked to our commitment to build an inclusive and sustainable digital economy, where everyone can thrive," said Beatrice Cornacchia, Senior Vice President, Marketing and Communications, MEA, Mastercard
Sabrin Rahman, Head of Sustainability for Europe and the Middle East, HSBC said: "Our clients have indicated that they are being more mindful of how they spend, with a strong preference for sustainable options. The Priceless Planet Coalition is a powerful way to amplify this movement, and we are proud to partner with Mastercard and Emirates Nature WWF on this initiative."
As a payments technology company with a mission to build a more inclusive, sustainable world, Mastercard continues to be a strong advocate for environmental stewardship, and this is highlighted in its Annual Sustainability Report. Since its launch, the Priceless Planet Coalition now has more than 80 partners. The company also unveiled an acceleration of its net zero timeline by a decade, from 2050 to 2040, building on existing commitments to reduce greenhouse gas emissions aligned with 1.5-degrees Celsius. Furthermore, it also issued a $600 million sustainability bond to support carbon reduction, supporting environmental choices for customers, and fostering inclusive growth.
In addition, the payments leader continues to offer environmentally focused products and services, such as cards made from sustainable materials to reduce plastic waste, and so far it has exceeded 10 million cards made from approved sustainable materials using Mastercard's Sustainable Card Materials Directory.
In June this year, HSBC committed philanthropic funds to a coastal ecosystem project in the UAE as part of the bank's US$100 million global Climate Solutions Partnership with World Resources Institute, WWF and a network of local partners. The project is part of HSBC's ambitious climate strategy, which commits the bank to aligning the financed emissions from its portfolio of customers to net zero by 2050 or sooner, in line with the Paris Agreement goals. To help get there, HSBC's target by 2030 is to provide between USD750 billion and USD1 trillion of finance and investment towards the transition. HSBC has also committed to become a net zero bank in its own operations by 2030 and has pledged to work across the financial sector and beyond to accelerate solutions that will help avoid catastrophic climate change.
Effective mangrove restoration strategies can support the long-term resilience of coastal ecosystems that in turn provide numerous benefits, such as the recovery of declining fish stocks, improving water quality, conserving cultural identity, as well as offering opportunities for eco-tourism.