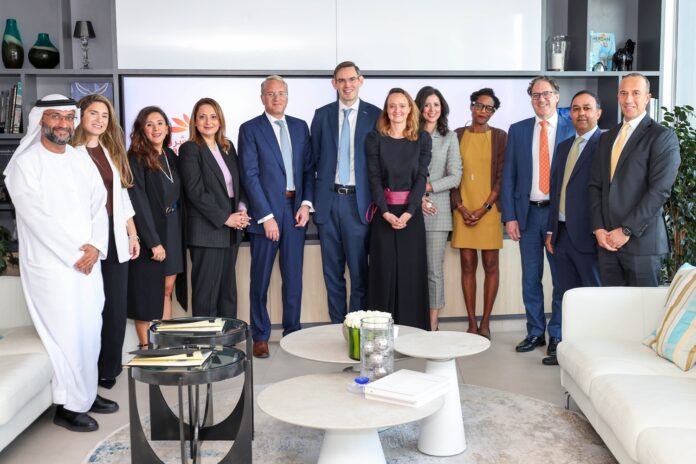 Mashreq has extended to Chalhoub Group its first Sustainability-Linked Working Capital Facility in a strategic move that underscores the growing importance of sustainable financing in the Middle East. This debut bilateral facility not only highlights both entities' commitment to environmental, social, and governance (ESG) principles but also sets a new benchmark for sustainable financing in the region.
The innovative sustainable finance product is structured around a comprehensive set of Key Performance Indicators (KPIs) for the next three years, spanning the entire ESG spectrum, beyond achieving net-zero emissions. Chalhoub Group, known for its robust sustainability framework, received validation of their 10-year Science Based Targets initiative (SBTi), aimed at significantly reducing carbon emissions and paving the way for net-zero by 2040. The facility also includes Social and Governance KPIs, emphasizing women's representation in senior leadership and the response rate for the Group's sustainability supplier scorecard. This pioneering move not only showcases Chalhoub Group's dedication to ESG but also sets a precedent for other corporates in the region.
Ahmed Abdelaal, Group CEO of Mashreq, commented, "This transaction is a testament to Mashreq's continued commitment to ES­G and sustainable financing. We are proud to support Chalhoub Group in their sustainability journey and believe that linking pricing to ESG performance will encourage more businesses to prioritize sustainable practices. Sustainability-linked finance facilities like this can serve as a catalyst, assisting businesses in the region to align their operations with global sustainability benchmarks and drive meaningful change."
Joel Van Dusen, Group Head of Investment Banking at Mashreq, added, "Innovative sustainable finance products, such as the one extended to Chalhoub Group, are not just the future of financing; they are pivotal in today's economic landscape. These solutions champion environmental stewardship while offering corporates a strategic pathway to align with global sustainability benchmarks, creating a ripple effect of positive change across the region. We are proud to partner with Chalhoub Group on their debut sustainability-linked working capital facility, which highlights their commitment to sustainability and sets a commendable example for all businesses in the Middle East."
Patrick Chalhoub, Group President at Chalhoub Group, stated, "Our partnership with Mashreq marks our first sustainability linked finance facility. We are proud of this collaboration that aligns with our long-standing commitment to sustainability and our Net Zero targets. Our dedication to fostering responsible practices and driving positive environmental and social impact is at the core of our strategies. Through this sustainable finance facility, we are creating additional accountability on our side, founded on our belief that it takes concerted collective efforts to achieve on ambitious targets.
As a leading luxury retailer in the region, Chalhoub Group's dedication to sustainability is exemplified by their strong partnerships with renowned brand suppliers, prime retail locations, efficient logistical infrastructure, and a forward-thinking omnichannel strategy. The Group is strategically investing in brands, new business models, retail technology, and geographical expansion.
Mashreq's commitment to sustainable financing is evident in its ambitious target to finance and facilitate $30 billion in sustainable financing by 2030. The bank has already made significant strides, facilitating $1.3 billion in water-related projects.
Recognizing the importance of sustainability-linked financing across various industries, the bank aims to drive broader awareness among manufacturers, retailers, and businesses. With its rich history of over half a century, Mashreq continues to innovate and challenge the norms of banking. With a presence in major financial centers worldwide, Mashreq remains committed to helping its customers find their way to rise every day.