Mashreq has reported its financial results for the quarter ending 31st March 2022.
Key highlights:
Robust Growth in Operating Income & Net Profit

Operating Income has increased by 11% over the previous year to AED 1.6 billion due to increased Net Interest Income and Income from Islamic financing coupled with improvements in fees and commission
Mashreq's non-interest income to operating income ratio continues to remain high at 47.0% (47.6% as of December 2021)
Operating profit at AED 894 million is a 13.3% increase compared to 1Q 2021 as a result of higher operating income
Net Profit increased to AED 606 million in 1Q 2022 compared to AED 43 million in 1Q 2021. This was mainly as a result of a decrease in impairment allowance by 64.5% Y-o-Y

Comfortable Liquidity & Capital position

Growth of 2.7% YTD in Customer deposits to reach AED 104.2 billion
Liquid Assets ratio stood at 29% with Cash and Due from Banks at AED 48.9 billion as on 31st March 2022
Capital adequacy ratio stood at 14.0%

Healthy Growth in the Loan Portfolio

Total assets increased by 3.1% YTD to AED 182.6 billion and Loans and Advances increased by 5.9% YTD to AED 86.3 billion
Loan-to-Deposit ratio remained stable at 82.8% at the end of March 2022

Improving Credit Environment

Impairment allowance reduced to AED 252 million from AED 711 million in 1Q 2021
Non-Performing Loans to Gross Loans ratio declined to 4.6% as of end of March 2022 (5.2% as of December 2021)
Total provision for loans and advances reached AED 6.4 billion and coverage ratio improved to 131.6% as on 31st March 2022 (128.2% in December 2021)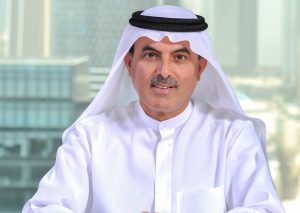 H.E AbdulAziz Al Ghurair, Chairman of Mashreq, said:
"Mashreq has delivered a strong start to the new year, with Q1 2022 showing robust year-on-year growth across key metrics, significant risk cost reductions and increased operating income.
The Bank's digital and operational strategies were also fundamental to our improved performance in Q1, with the launch of new services and platforms that reflect Mashreq's expertise in shaping the future of payments across the region and its commitment to unleashing the enormous benefits of the digital economy. As part of this journey, the Bank has entered new partnerships and investments in Q1 that advance our API and banking-as-a-service capabilities.
As a result of its strategy, the Bank recorded significant improvements in net profits, driven in part by the continuation of growth across the loan portfolio, higher net interest income and increased income from Islamic financing.
The hard work displayed by all at Mashreq has delivered not only an excellent quarter but a raft of best service awards that once more names Mashreq as a regional market leader and domestic leader in multiple countries across the region. We also made good headway in expanding the Bank's Group-wide approach to diversity and inclusion based on our work-from-anywhere operating model.
As 2022 unfolds, we anticipate that Mashreq will continue to forge its leading role as a digital challenger, advisor and partner for our corporates and SME development across the global markets. Additionally, armed with a sharp focus on the creation of advanced digital solutions, Mashreq will continue to contribute to the UAE national economy, the nation's businesses and all those who live and work here."
Ahmed Abdelaal, Group CEO, Mashreq Bank, said:
"As 2022 began, we set out to build upon the successes of 2021 by actioning a series of targeted investments in people, services and technologies. Our strategic approach delivered a year-to-date increase in loans and advances of 5.9%, which reached AED 86.3 billion by March 31st.
The Bank also experienced double-digit growth in its operating income in Q1, rising by 11% year on year due to increase in interest income and income from Islamic Financing on the back of strong organic growth in asset volumes across different sectors. Our prudent operating model also delivered a 65% reduction in risk costs, which in turn supported a surge in net profits that reached AED 606 million compared to AED 43 million in the first quarter of 2021.
Being named the Market Leader in Trade Finance across the Middle East and the UAE for a second consecutive year at the 2022 Euromoney Trade Finance Awards, Mashreq's Trade Finance business continued to lead the digital transformation race in Q1. The Bank was also ranked Fastest Growing Financial Services Brand in the Middle East by Brand Finance, reflecting Mashreq's growing consumer recognition through best client experience and our determination to widen access to the Bank's unique products and services.
Delivering innovations in customer channels and back-office operational platforms, the Bank leveraged multiple digital solutions in Q1, including machine learning, artificial intelligence, OCR, and Blockchain. Looking ahead to the coming months, these capabilities will ensure that the Bank continues to serve as a one-stop-shop for all retail and corporate trade finance requirements with a full and always-evolving suite of products and services.
The launch of NEOPAY in March represented yet another significant advance for the Bank and its role as a digital-first enabler of business success. The new platform, which will help fuel the growth of Mashreq's payment business, leverages the latest technology and innovation, including card processing and merchant acquiring systems, processing switches and PoS inventory.
I am delighted that LinkedIn named Mashreq as one of the top 10 best places to work in 2022, and, as we look ahead to the months that lie ahead, the Bank will harness the talents of its incredible human capital in a way that delivers ever-greater value to all its stakeholders.
I wish to thank all of our customers, employees, shareholders, and communities we serve for their loyalty and support during an excellent first quarter of 2022."