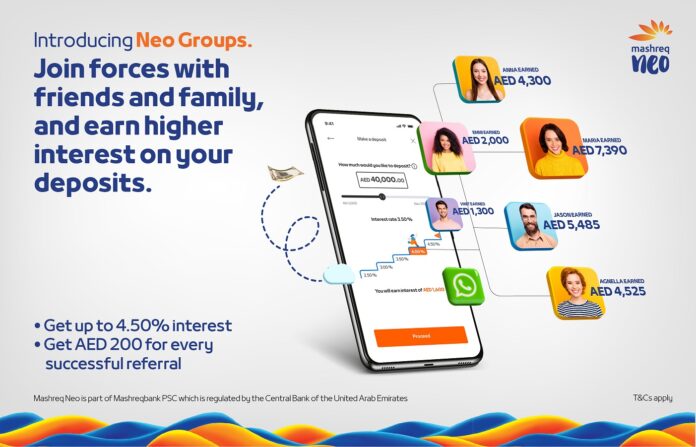 Mashreq has introduced Neo Groups, a unique community-based banking product, to the country's residents. For the first time in banking, Mashreq and Mashreq Neo customers can create groups, invite up to 50 friends to join, and collectively earn higher interest rates on their savings with the Bank when the group members deposit more.
Easy to create using the Mashreq mobile banking apps, Neo Groups enables its users to conduct interactions and track the group's activity in real time. In addition to enjoying interest rates of up to 4.50%, the group leader who brings in a new member can receive a bonus of AED 200 for every successful referral.
Fernando Morillo, Group Head of Retail Banking at Mashreq, said: "Mashreq's customers are ambitious, full of ideas and plans for a brighter tomorrow. Transcending our role as a financial partner, we are here to help them bring their unique visions to life. The launch of Neo Groups reinforces Mashreq's standing as a challenger and an innovator. Adding a social dimension to banking, our latest proposition presents a new way to make the most of our customers' savings and turn a little into a lot."
Radu Topliceanu, Head of Neo and Personal Banking at Mashreq, said: "Mashreq is committed to providing innovative solutions that address the key needs of consumers and maximize returns on their investments. Through Neo Groups, the first-ever community-based deposit product in the UAE market, customers can join forces in a fun and friendly way to obtain higher interest rates even though they do not have huge amounts. We are glad to help our customers to take a step towards building a secure financial future and achieve their goals."
Topliceanu noted that according to Mashreq's customer research, more than 80% of respondents are looking for a safe option to invest and earn assured interest rates. The survey also showed high willingness of customers to use WhatsApp as a medium to promote a community-based banking product, and thereby benefit themselves as well as their friends and families.
Providing a modern alternative to Mashreq's conventional personal banking offering, Mashreq Neo is the fastest-growing digital bank in the region. Its customers can enjoy a simple and seamless experience that saves time while performing their daily banking transactions. Mashreq Neo is known for bringing innovative solutions to the market, including Neo NXT – an account for 12-to-18-year-olds, account opening under five minutes, facial recognition, and non-resident accounts. Year over year, Mashreq has witnessed a 20% increase in the number of customers accessing its products and services through digital channels.