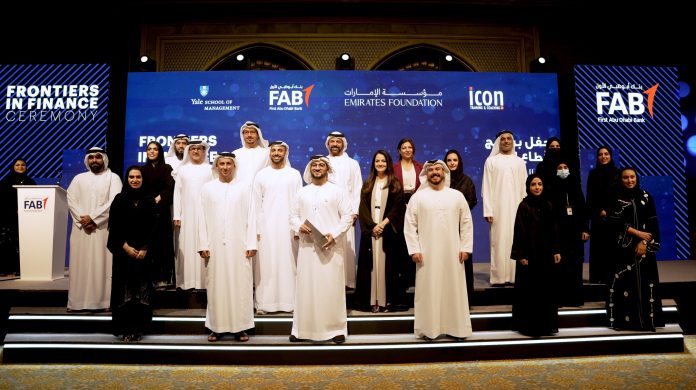 First Abu Dhabi Bank (FAB) in collaboration with ICON Training and Coaching and on specific programmes with Yale SOM executive education today launched the Institute of the Future (IFAB), a global think tank and thought leadership platform focused on agenda setting, information sharing and policy shaping. IFAB connects minds to create the future.  By bringing together some of the most pioneering and progressive global thinkers, the institute of the future will help shape the future direction of the economy.
Combining the expertise of the UAE's largest bank and globally renowned and respected thinkers and centers of excellence, IFAB's goal is to strengthen the UAE's position as a global financial hub by equipping industry leaders with the skills, tools and strategies required to successfully navigate the next era of transformation.
IFAB is structured around four pillars: executive education; speaker series; insights; research and publications. Connecting academic research with industry expertise IFAB's platform utilises content from FAB and a globally renowned thinkers, researchers, and innovators to provide experienced professionals and industry leaders with the tools, knowledge, and relevant insights to elevate their individual performance, that of their business, and of the performance of the overall sector.
Hana Al Rostamani, Group CEO of FAB, said: "There is a need to prepare leaders to understand and adapt to the complex dynamics transforming every corner of the economy. At FAB, we believe strongly that it is our duty to enable exceptional finance professionals to grow, develop, and pursue their aspirations. In response, FAB and Yale School of Management Executive Education have built a peer-learning platform to enable the exchange of knowledge today to shape the world of tomorrow. Leaders and professionals can share knowledge and expertise to anticipate change, initiate forward-thinking solutions and build future ready capabilities.
We look forward to announcing the second batch of the 'Frontiers in Finance' programme in collaboration with our strategic partners ICON training and Coaching and Emirates Foundation and develop executive programmes in the future that will spearhead the nation's economic and transformative development."
His Excellency Ahmed Al Shamsi, CEO, Emirates Foundation, said that the collaboration was another step forward in building a resilient community, saying, "Emirates Foundation is proud to be part of such a productive partnership with FAB, Yale School of Management and Icon Training, collectively pursuing the honourable objective of providing means for Emirati talent to navigate safely and securely along their chosen career path. This enthusiasm for progress on their part is one of the foundations in our quest to build a resilient community which is ready, willing and able to work hard in order to become better leaders for the future."
IFAB brings together the foremost experts in the fields of finance, investment, and banking, to share lessons learned, provide peer coaching, and create strategic alliances with the goal of building resilience in the financial and investment space and deliver real sustainable impact. Alongside executive training and education, FAB will initiate academic research that is both locally relevant and supportive of long-term economic development.
The creation of IFAB was announced during the ceremony of the inaugural 'Frontiers in Finance' programme, designed by Yale School of Management Executive Education for FAB in collaboration with ICON Training and Coaching and the Emirates Foundation. The programme builds capacity in navigating the complexities of the financial and investment sectors, offering participants a deeper understanding of investment management, decision making and strategy, as well as advanced concepts such as the application of data science and quantitative techniques in investment decisions.
IFAB follows initiatives such as FAB Scholars, which launched in 2021 to provide scholarships to qualifying Emirati students enrolled in the Paris II University law programme at DIFC Academy.