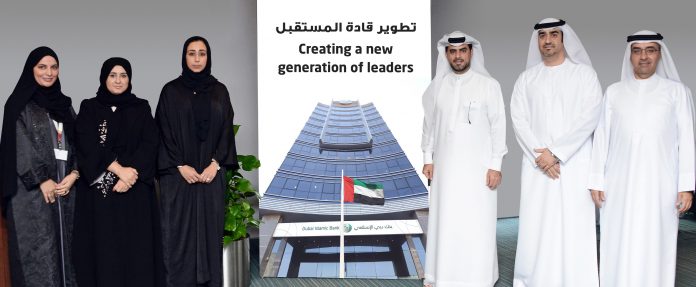 Dubai Islamic Bank (DIB) has made great strides in achieving its Emiratization agenda playing a key role in overcoming the challenges posed by the pandemic. DIB's commitment to recruit, nurture and retain the best people has strongly elevated its position as the 'Employer of Choice', fostering a diverse and inclusive work environment that offers outstanding prospects for all employees.
For DIB, it is not just focus on the number of UAE nationals they recruit. They place significant emphasis on ensuring that Emiratis are given meaningful job opportunities supplemented with tailored on-the-job training, ensuring the creation of qualified, skilled, and competent industry leaders of tomorrow. Consequently, close to half (45%) of its employees are UAE Nationals, whilst at branch managerial level, the number has risen to 100% ; the UAE Central Bank's best Emiratization scores.
Driven by the leadership's belief in empowering the Emirati Women in all sectors, 550 roles across the bank are now held by Emirati women. In addition, DIB is acknowledged as a strong advocate for female empowerment with Rafia Al Abbar, Vice President, Head of Talent Management, Learning & Development at the bank also assigned as the Chairperson of the Women Empowerment Committee in EIBFS.
Commenting on DIB's focused approach to Emiratization, Group Chief Executive Officer, Dr. Adnan Chilwan, said: "At DIB, Emiratization has been a key element of the bank's philosophy and we believe it to be the main driver for future growth. Our goal is to foster the next generation of leaders and we remain fully aligned with the UAE's 'Projects of the 50' to boost Emiratization in the private sector. DIB's strategy of supporting the development of local talent places significant importance on recruitment, development, reward, and retention. We are particularly proud of our achievement in strengthening the position of Emirati women, regionally and internationally by helping to promote the UAE as among the most advanced countries in the area of women's empowerment.
Dr. Adnan further added: "We strongly believe that young Emiratis should be encouraged to join the private sector; particularly banking, which offers an engaging and dynamic career, awash with opportunities to grow and learn. We value the UAE's wise leadership, which continues to introduce more progressive legislations, and initiatives that strengthen the nation's human capital and we remain fully committed to remaining at the forefront of empowering Emirati talent to reach their full potential."
Uniquely, DIB has made a significant shift from the traditional quantitative method of recruiting UAE nationals to a more a targeted, qualitative strategic approach that focuses on the future development of individual employees in key roles. By avoiding a 'one size fits all approach' to personal development, the Bank is valuing human capital over human resources, and this has resulted in numerous UAE Nationals securing leadership positions within the bank.
Its successful Emiratization strategy, built on a longstanding legacy of supporting the development of individual Emiratis is founded on a series of tailored training and development programs:
Critical role: A customized development journey for UAE nationals, this program assesses an individual's capabilities in order to identify any gaps in behavioral and technical abilities. The outcomes from the assessment allow individuals to create a customized development journey directed specifically to grooming them for future critical roles.
High Potential Program: A structured development program for those who have been identified as exceptionally talented. The program brings a group of highly committed individuals together on a year-long developmental journey that includes learning events and blended training solutions that challenge the participants and increase their competence.
Leadership Development: A customized leadership program catering to the unique skills of leaders at DIB that identifies best practice and internal skill gaps in order to prepare our leaders to lead in a VUCA world (volatility, uncertainty, complexity and ambiguity).
Get Inspired Motivational Talks: One of the key initiatives launched by DIB this year as part of its Emiratization agenda to inspire Emiratis and help in engaging their minds and hearts in such a way that motivates them to think more clearly, see opportunities, and keep their career moving forward.
Emirati Program: Specialized program for Emirati Fresh graduates to prepare them to work in the banking sector through developing them on the behavioral and the technical side as well.
Riyadah Program: A customized learning journey dedicated to Emirati senior leaders within the bank, consisting of three different levels bringing new learning interventions and topics that leaders need to focus on and bridge skills gap. The three months journey brings leaders from different departments to work together and enhance their skills and develop an innovative project that can add value to the organization and departments.
Qiyadah Program: A structured learning intervention for our future UAE national leaders where we focus on growing their leadership skills and prepare them for more challenging roles within the organization. The journey consists of four levels each level covers different learning interventions that will take the learners to the next leadership skills.
Tatweer Program: Focuses on young aspiring Emiratis graduates. The program is built around the essentials skills and competencies required to bring learners up to speed. Each level in the program covers important milestones in learners' development journey to enable them add greater value to their role and the organization's growth.
Another specific DIB initiative is "Iktaseb", a summer training program for young UAE nationals which has successfully launched the careers of hundreds of young UAE nationals, and it remains a key part of DIB's extensive corporate social responsibility efforts.
DIB's efforts have seen them receive numerous human resources development accolades for their continued efforts in nurturing the young Emirati population. Recently, the bank was recognized by EIBFS for its outstanding performance and valuable contribution towards EIBFS Emiratization initiatives.
Dubai Islamic Bank's achievements were also recognized recently at the Middle East Banking Innovation Summit where they were presented with the 'Women Empowerment Excellence Award' for their efforts in promoting a diverse working environment that champions women and has a true focus on achieving gender equality at every level of the business.