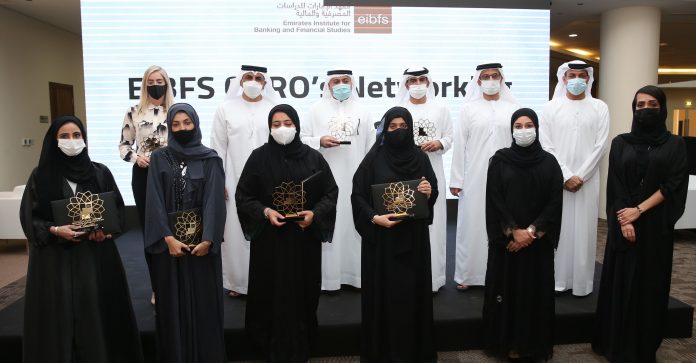 Emirates Institute for Banking and Financial Studies (EIBFS), a regional leader in banking and finance education and training, awarded eight leading UAE banks for their Emiratization efforts and for putting in place robust training and development programs to empower their employees during the pandemic.
Jamal Al Jassmi, General Manager of EIBFS presented the awards to representatives of the winning banks at the EIBFS CHRO Networking Event. Emirates NBD was recognized for its reskilling drive that trained over 1000 Emiratis through the EIBFS Future proof Banker program. Whereas Abu Dhabi Islamic Bank, Citi Bank, Dubai Islamic Bank, Commercial Bank of Dubai, and Ajman Bank were presented awards for their longstanding partnership with on several Emiratization initiatives through professional certifications and other customized programs including the CBO, Six sigma and ACAMS.
At the event, EIBFS also presented an award to RAK Bank for working closely with them on their graduate programs, leadership development and E-learning modules, while HSBC was recognized for the active role, they played in promoting the Oxford Leadership Program and other initiatives.
Speaking about the awards, Jamal Al Jassmi said: "We are proud to witness the significant strides the banking sector in the UAE has made to train staff and help them adapt to the new world we find ourselves in. At EIBFS, we value our long-standing partnership with the country's banks and work relentlessly to equip them with impactful training programs that help upskill and reskill their human capital. Today's award ceremony is a recognition of the outstanding efforts of leading banks in the UAE to ensure that their employees are future ready. In addition, these programs prepare Emirati finance professionals to take on the challenges facing the banking and financial services sector today and turn them into opportunities."
The 2021 EIBFS CHRO Networking Event convened over 55 Chief Human Resource Officers (CHROs) and Emiratization Managers to discuss the future of banking and finance and assess the emerging opportunities in the space. Participants also discussed HR best practices to empower workforces in challenging times and highlighted the urgent need to include competency-based learning modules as part of their recruitment and retention strategy to ensure sustainable growth.
At the Forum, EIBFS also introduced its bespoke skills-based programs that aim to support the learning and development practice across the financial sector.