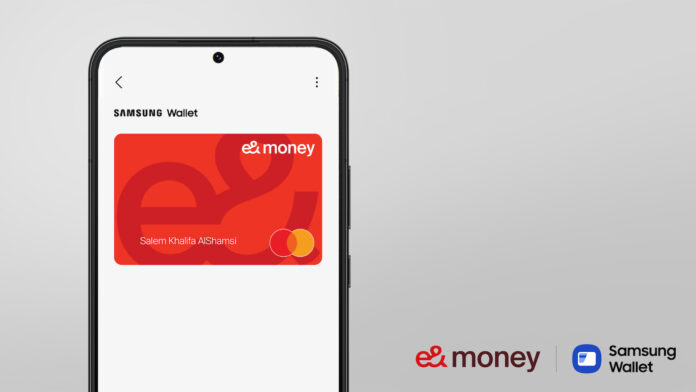 e& money, the fintech arm and financial app of e& life, announced that customers can now use their e& money cards in Samsung Wallet, a digital wallet solution that allows mobile payment services and more, to complete secure contactless payments at several online and in-store outlets around the world.
The partnership seeks to create a seamless and secure digital payment ecosystem and accelerate a convenient and comfortable lifestyle for UAE residents by integrating mobile payment solutions with the e& money card.
Samsung Wallet is a quick, easy, and secure way for users to complete payments. It will be equipped with additional features in the near future, including the ability to store sensitive documents such as IDs, electronic keys, and boarding passes with just one swipe.
The introduction of Samsung Wallet is part of e& money's continuous commitment to enhancing services and improving the payment experience for customers. This addition aims to provide customers with a secure, fast, and convenient mobile payment experience, further elevating their journey towards hassle-free transactions.
e& money enables every resident in the UAE to obtain a card within 10 seconds by simply registering on the e& money application. Every customer is instantly issued a 16-digit Mastercard- branded e& money card, packed with a rewarding programme that currently offers a 1% cash reward on every card payment. With this launch, the card can be added to Samsung Wallet within seconds to enjoy contactless payments, both in-store and online.
Khalifa Al Shamsi, CEO, e& life, said: "We are thrilled to introduce the Samsung Wallet to our customers, empowering them with a range of convenient and secure payment solutions through seamless integration with our platform. Our goal is to elevate the purchasing experience for our valued users by offering them cutting-edge features while ensuring their financial transactions are secure, efficient, and hassle-free. We are determined to transform how people engage with the digital world, simplifying payments and unlocking a new level of convenience and control for our valued customers."
Fadi Abu Shamat, Head of Mobile eXperience Division at Samsung Gulf Electronics, said: "Our partnership with e& money is a critical step for the brand as we continue expanding our outreach to consumers in the region so they may avail of next-generation payment solutions. We are currently working to maximise convenience by adding even more features to Samsung Wallet for our customers to benefit from seamless journeys, both in and out of the digital sphere. We look forward to this next step with e& money."
The Samsung Wallet platform is protected by strong hardware and Samsung's Knox-based security technology to safely store sensitive information in the device, including fingerprint recognition and encryption to make sure users' important data are protected. It also replaces sensitive data with unique identification symbols, which offers an extra layer of protection against potential digital and physical hacking attempts. 
To activate Samsung Wallet, customers can download the Samsung Wallet App from the Galaxy Store, log in to their Samsung account directly from the Samsung Wallet App to set their PIN and fingerprint, then tap on 'add card' and scan or manually enter their card number. The card can also be added to Samsung Wallet directly from the e& money application.