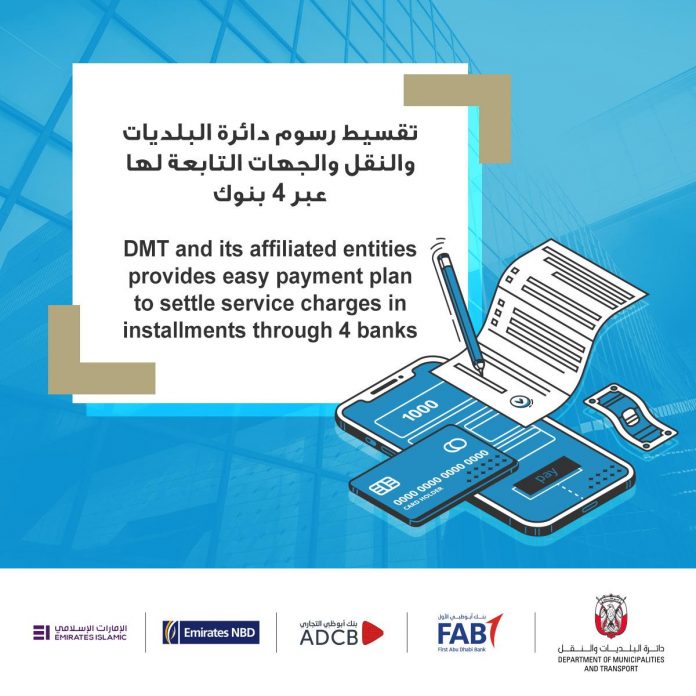 The Department of Municipalities and Transport in Abu Dhabi signed agreements with 4 banks to provide "easy payment plan" service, enabling credit card holders issued by these banks to pay the charges for the services provided by the department and its affiliated entities in installments for 3 months, 6 months, 9 months or 12 months, provided that the total value of the charges exceeds AED 1,000.
As part of DMT's initiatives to enhance happiness, positivity and satisfaction towards services among its customers, the service aims to enable customers to easily settle the charges in installments using credit cards without any interest.
The banks include First Abu Dhabi Bank, Abu Dhabi Commercial Bank, Emirates NBD as well as Emirates Islamic Bank. In addition, DMT is working to sign agreements with several other banks in UAE to provide this service.
His Excellency Omar Al-Nuaimi, Executive Advisor for Financial and Administrative Affairs in the Municipalities and Transport Department said: "The agreements are part of the Department's strategy to provide easy conditions for Emiratis and expats, simplify procedures and facilitate service charges settlement, ensuring charges settlement while alleviating the burdens on both Emiratis and expats".
His Excellency pointed out that customers of these banks can easily benefit from these plans, confirming Abu Dhabi's reputation as one of the best cities for living, residence and investment, according to the highest international standards.
The service enables customers of DMT and its affiliated entities to pay municipal fees in the municipalities of Abu Dhabi, Al Ain, and Al Dhafra Region Municipality and Integrated Transport Center and then divide them into installments, provided that their minimum value is AED 1000 at least. Customers can benefit from this service through digital channels such as DMT and its affiliates website, and through SmartHub platform, smartphone applications and self-service kiosks, by paying the charges for their transactions and then dividing them into installments over the specified periods of 3 months, 6 months, 9 months, or 12 months without any interest or Murabaha.
To benefit from this service, charges should be paid to the Department or one of its three municipalities and the Integrated Transport Center by credit card, then customers should contact their credit cards issuing banks, and request to settle the amount in installments for their preferred period, ranging between 3 months, 6 months, 9 months, or 12 months without charging any interest.