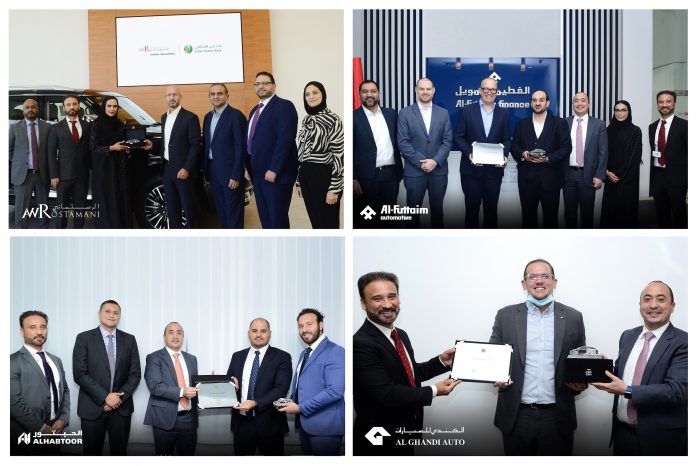 Dubai Islamic Bank (DIB) announced a special recognition awards initiative for key players in the thriving UAE-based automobile industry. The top Auto Business Partners were awarded for exceptional customer service, and for fulfilling vital initiatives on an ongoing basis.
The awards celebrate the achievements of these entities, with the objective of encouraging other developers to follow suit and deliver on the larger agenda of providing quick, easy and hassle-free solutions for customers. The key criteria in shortlisting the top players was their contribution to DIB's Auto Finance business in respective categories based on specific data-based insights such as stellar performance, exceptional customer experiences and business growth to name a few.
The distinguished organisations who walked away with accolades were Al Futtaim Motors Group, Arabian Automobiles, Al Habtoor Motors and Al Ghandi Auto. The award is a testament to the commitment that DIB and these entities have made in providing a seamless ecosystem in which all parties can thrive, be it the manufacturer, the dealer, the financing bank or most importantly, the customer.
Commenting on the awards, Sanjay Malhotra, Chief Consumer Banking Officer at Dubai Islamic Bank, said: "I am very proud of the achievements of our strategic automobile business partners and thank them for their dedication and eagerness to succeed. We stand united in our end goal, which is to provide a happy experience to all players in the entire value chain, be it the manufacturer, dealer, DIB or the customer. I am also especially delighted on the prospects to see other dealers vying for the top spot to lay the foundation for a larger group working towards a common objective. We are also pleased to be part of this ecosystem of associates who opt for DIB as their preferred Auto Finance partner for creating customer experiences that drive a mutually beneficial agenda. We look forward to building on this joint growth and momentum in the rest of 2022. 
Alexander Maas – Managing Director Al Futtaim Finance, said: "Driven by our relentless customer focus and commitment to exceeding the changing customer demands across the UAE, Al Futtaim Finance aims to provide car buyers the best ownership and usership solutions for their Al Futtaim vehicle. Our collaborative partnership with Dubai Islamic Bank is crucial in ensuring we continue to offer our customers fully integrated financial solutions. We are thrilled by this recognition and strive to uphold a high level of customer service, remaining dedicated to meeting consumers requirements and needs."
Al Futtaim Finance, part of Al Futtaim Automotive is a market-leading provider of financial and ownership solutions that cater to all mobility requirements. Offering a one-stop solution for individuals, SMEs and large corporations, it utilizes an extensive network of own automotive brands to support customers. Through a consistent delivery of best-in-class financial services experince, it has earned a reputation as one of the most trusted leasing and finance providers in the UAE.
Salah Yamout, COO of Arabian Automobiles at Arabian Automobiles, said: "We are pleased to be recognized by Dubai Islamic Bank for our performance and innovation for H1 of 2022. This outstanding performance as part of the automotive finance business is an outcome of our customer-centric services and products that we offer under one roof and of our seamless customer engagement across offline and online touchpoints. This was made possible due to our investments in technology, and we want to thank our colleagues at Dubai Islamic Bank for continuously working with us in identifying customer needs and introducing innovative car-buying financing solutions."
Bassem Baz, General Manager F&I of Habtoor Motors, said: "With the latest auto finance solutions, and on the other hand, our unremitting commitment towards customer satisfaction, there was a dire need for these two components to be bridged and successfully transformed to a quicker and more flexible framework especially to the customer. Creating a simpler and safer instant payment ecosystem that upholds customer retention strategy doesn't just require a bank but requires a massive entity like DIB which shares with us the same values, goal and mission.
On behalf of Al Habtoor Motors, I convey our heartfelt gratitude for this solid cooperation and for being part of our system, and breakthroughs. This recognition is a reflection of your level of professionalism which has been showcased for years through the support that you have provided to achieve these milestones in automotive finance business and customer satisfaction."
Steve Molyneux, General Manager – Financial Services at Al Ghandi Auto, said: "Al Ghandi Auto are extremely happy to be nominated for the award for 2022 first-half performance from Dubai Islamic Bank. Our portfolio is one of the freshest in the UAE comprising of the all-new Chevrolet Tahoe the official SUV of action, the first ever GMC Yukon AT4 and the lavishly spacious, stylish, & thoughtfully crafted 2022 Cadillac Escalade; 2022 has exceeded our expectations.
Our vision is to keep the customer experience at the forefront of the buying journey and the innovations, transparency and communication that put DIB at the forefront of vehicle lending have created a superb partnership. We look forward to continuing this success long into the future".
The DIB's recognition initiative comes on the heels of a strong fiscal first-half of 2022, which saw a significant contribution from DIB's Auto Finance division via strategic partnerships, and we are looking at continuing this momentum during rest of the year, and in the years to come.