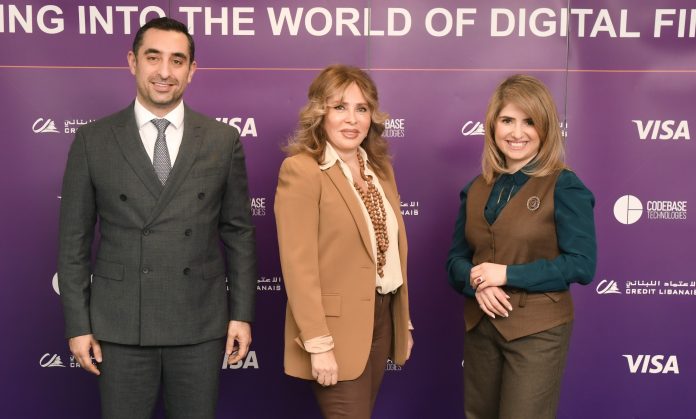 Credit Libanais partnered with VISA and Codebase Technologies to develop a frictionless, omni-channel onboarding experience for customers looking to acquire virtual prepaid cards. This initiative comes at a time when over 6 million Lebanese are struggling from utilizing their debit and credit cards for purchases made abroad and online.
Credit Libanais, worked closely with the Lebanese Central Bank to get the approval on the first digital prepaid eKYC by a Lebanese bank, paving the way to offer the unbanked population a fully digital channel via a mobile application to instantly apply for a virtual prepaid card allowing people across Lebanon a quick and digital solution for international and online payments.
Built using Codebase Technologies Digibanc™ Suite, the solution will feature frictionless eKYC, omni-channel onboarding experiences, and empower Credit Libanais with rapid customer acquisition and customers with unique digital experiences. The Digibanc™ Suites modular and flexible architecture will support the necessary enterprise application interactivity requirements to ensure frictionless communication between various Credit Libanais systems: the bank's card management system, AML, Email and SMS gateways, in order to validate the information filled by the user.
Randa Bdeir, Deputy General Manager and Head of Electronic Payment at Credit Libanais said: We partnered with Codebase and VISA and came up with this innovative product that offers any Lebanese citizen the ability to apply for a virtual card through a mobile application with full eKYC process, thus reducing the need to visit the bank's branches and go through the long physical application process". This solution will drive financial inclusion further and grant the unbanked population with equal opportunities to access useful and affordable financial products and services that meet their needs and leads to a stronger and more sustainable economic growth and development and will offer any user the ability to use their card abroad with no restrictions.
Tamer Al Mauge, Codebase Technologies Managing Director MENA, commented "Lebanon is going through an unprecedented crisis that is massively impacting people's lives. We're proud to be working with strong partners, Credit Libanais, VISA and the Lebanese Central Bank to facilitate a first to market product for the Lebanese people. In line Codebase Technologies vision of utilizing technology for a greater purpose, we can't think of a better way to leverage our expertise and solutions to empower the people of Lebanon with a new way to access and use much needed financial services."
Mario Makary, Visa's Country Manager in Levant stated "At the heart of our strategy lies access. The concept of 'access' for all, regardless of geography, social status, or financial education, that is a vital facet of who we are and what we do at Visa today. By accelerating digital-first experiences, we're enabling the movement of money for everyone, everywhere. Our experience and resources joining forces with Codebase Technologies and Credit Libanais to help bring this service to the Lebanese customers is a milestone and we're excited for the opportunities this will bring for the Lebanese market during these circumstances".