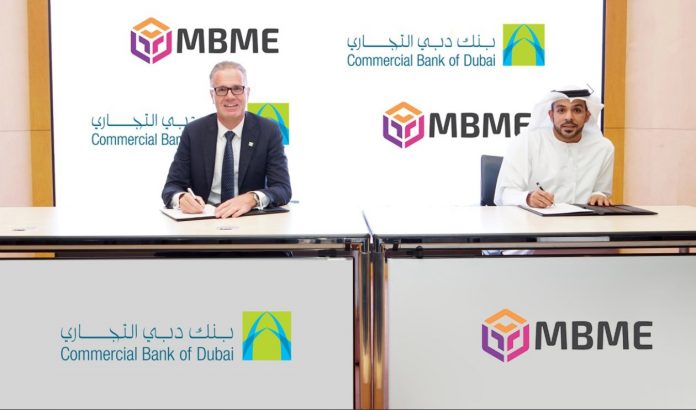 As part of CBD's commitment to provide innovative payment solutions, Commercial Bank of Dubai, one of the leading financial institutions in the UAE has entered a partnership with MBME Pay, a pioneer in the UAE services and payment solutions, bill aggregator and kiosk manufacturer industry, to enable topping-up the eDirham card conveniently through MBME's wide network of kiosks.
Initiated by the Ministry of Finance, the eDirham card is part of a cashless payment platform that empowers users to make payments for a wide range of services across Ministries. The eDirham cards provides the next generation of convenience, security and flexibility for all financial transactions at Ministries.
Through the partnership with MBME Pay, customers will be able to instantly top-up their CBD issued eDirham cards conveniently from any of MBME's 860+ self-service payment kiosks across the UAE.
His Excellency Saeed Rashid Al Yateem, the Assistant Undersecretary of Resources and Budget Sector at the UAE Ministry of Finance stressed on the important position of the e-Dirham system, as a Digital national payment platform that is based on the latest global technologies for cashless payment services, and a smart, easy and secure method to pay government and non-government service fees remotely. His Excellency Al Yateem said: "The Ministry of Finance continues to work on improving the e-Dirham system to better serve customers according to the best international standards and in line with the UAE mGovernment Initiative. The ministry is constantly launching incentivizing initiatives that encourage all society members to adopt the latest advanced financial digital options, in order to support the transformation to digital economy."
Dr. Bernd van Linder, Chief Executive Officer of Commercial Bank of Dubai, said: "We are delighted to partner with MBME Pay, the leading provider of self-service solutions, to provide a convenient and easy way for customers to top-up their eDirham cards from any of their large network of kiosks spread all over the UAE. We are constantly working towards supporting the government initiatives and providing greater convenience and access for our customers, by introducing new payment solutions that will help us in fulfilling the growing needs of our customers."
Abdelhadi Mohamed, CEO of MBME PAY, said: "In MBME Pay we believe in making people's life easier and provide them with all the convenient ways possible for that. During the difficult time we all going through, we thought of this partnership with CBD and eDirham to enable the end user to top up their cards from our 860+ fleet of kiosks which are available in all the emirates and in many different locations. This partnership will be the first and not the last to assist the customers with their utility and government payments."