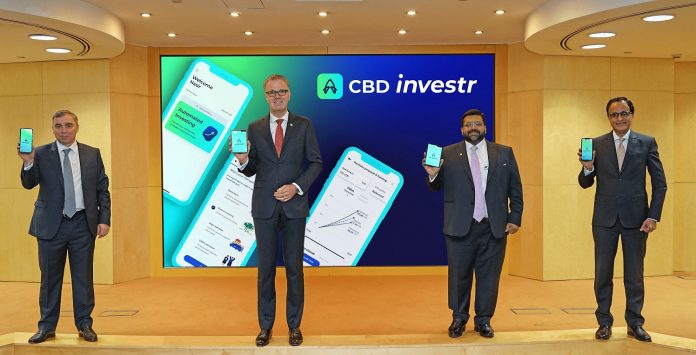 Commercial Bank of Dubai announced the launch of "CBD Investr app", becoming the first bank in the region to offer a robo-advisory investment solution. Developed in partnership with InvestSuite, a leading wealthtech company based in Belgium, this innovative investment app is powered by smart algorithms that actively manage investment portfolios to deliver optimal risk-adjusted performance.
CBD Investr offers customers convenient access to globally diversified and personalized portfolios of stocks, bonds and other asset classes using low-cost exchange traded funds (ETFs). These portfolios are tailored based on customer's specific goals, risk appetite and investment time horizon and are actively monitored and optimised based on changing market conditions to deliver the best possible performance over the long term.
Customers can start investing in a matter of minutes by simply downloading the CBD Investr app, registering using their Emirates ID and answering a few questions to assess their risk profile and create a personalized portfolio. Customers do not need a CBD bank account to fund their portfolios and can make a local transfer from any bank account in the UAE. The best part is that customers can start investing with just $500 and withdraw at any time, without any charges.
Dr. Bernd van Linder, Chief Executive Officer of Commercial Bank of Dubai, said: "Digital technology is disrupting the financial industry and is a key strategic priority for CBD as part of its vision to be 'default digital'. We believe the next wave of disruption will be in the investment industry and our goal is to provide state-of-the art investment services to all individuals across the region. We are delighted to launch CBD Investr, an innovative app leveraging cutting-edge technologies to deliver a world-class investment solution which will help customers grow their wealth in a simpler, more transparent and affordable manner."
Mark Zanelli, General Manager, Treasury, Asset Management & Global Markets at Commercial Bank of Dubai added "CBD Investr heralds the next generation of Investment Services and provides financial market access to a much wider range of investors. Investing for the future is something that is on everyone's mind and with the low entry point of $500, this product enables individuals to start investing for their future much earlier in their careers."
Bart Vanhaeren, CEO and co-founder of InvestSuite, commented: "When CBD, a recognized digital leader in the Middle East, selected us to work with them to launch cutting edge digital wealth solutions, we were more than thrilled. Our team was truly impressed by CBD's holistic vision for wealth management, unparalleled speed and their technological capabilities. Our cooperation is proof of the new, emerging ecosystem, consisting of financial institutions, core banking providers, management consultants & fintechs, with each bringing their unique strength. We are convinced that the CBD Investr platform is a game changer for their current and new customers."
As part of the planned enhancements in the next few months, the app will include a virtual portfolio feature which will allow customers to create portfolios and monitor actual performance before investing money. In addition, the app will also introduce a self-investment solution for more experienced investors who want to buy and sell global stocks and ETFs.