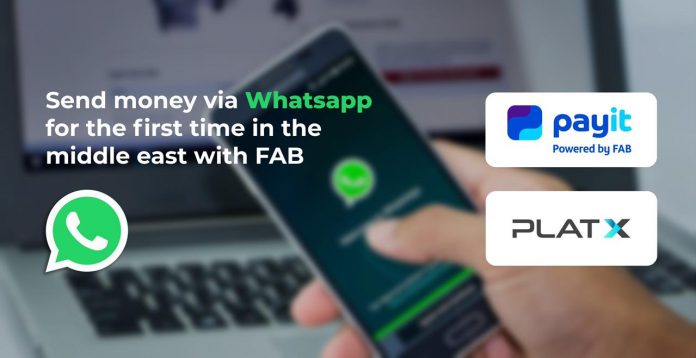 Payit, the UAE's first fully featured digital wallet, powered by First Abu Dhabi Bank (FAB), has partnered with PLATX Omni Channel Conversational Commerce, an innovative provider of digital support services, on a first-of-its-kind solution for merchants in the UAE. The new service which is also the first of its kind in the region enables merchants to collect payments via WhatsApp from their customers.
In an easy and convenient process, merchants who enroll for this service can simply provide their WhatsApp enabled mobile numbers to their customers who then engage with a conversational BOT and make secure payments in a matter of minutes with the merchant receive the confirmation of payment on a real time basis.
"We are proud to work alongside PLATX to deliver the first WhatsApp based payment solution in the Middle East. The solution was designed in line with our robust multi-level encryption to ensure all transactions are secure. At payit, we continue to introduce such innovative solutions to support our merchant partners especially in the SME segment with robust, cost effective seamless digital checkout experience as well as expand upon payit's many services to provide a comprehensive digital wallet that serves our customers' evolving needs", said Ramana Kumar, Chief Executive Officer of Magnati – a fully owned FAB subsidiary.
Walid Tarabih, Founder and CEO of PLATX commented: "At PLATX, we strive to provide innovative solutions and new platforms to enable conversational commerce and first party data. It was an honor to work with payit on such a high profile and innovative solution that will change the way people pay in the region forever."
Launched in 2018, payit is the UAE's first fully featured digital wallet, and the first lifestyle payment wallet in the UAE accessible from any smartphone. The safe and secure service is available to anyone with a valid Emirates ID, regardless of who they bank with, and the sign-up process takes less than two minutes.
Download the payit app from the App Store or Google Play Store. For more information, please visit https://www.payit.ae/.