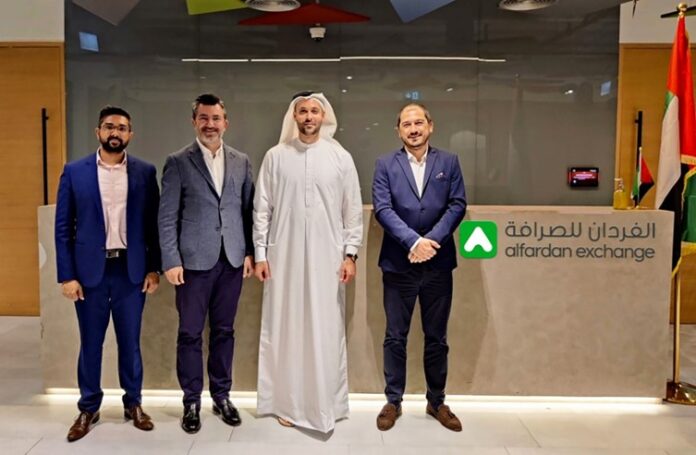 Al Fardan Exchange has announced its partnership with Turkish global money transfer platform, UPT, providing its UAE customers the opportunity to send remittances to Turkey.
The partnership extends customers the service of real-time cash pick-up in Turkey from any of the 7,000+ Turkish Post and UPT Money transfer locations in the country and bank account transfers, ensuring a smooth and seamless process for customers. This convenient service also applies to CIS countries such as Azerbaijan, Uzbekistan, Kyrgyzstan & Georgia.
For customers based in the UAE, the two-way partnership appoints Al Fardan Exchange as the processor for customer pay-outs coming into the UAE, adding a new choice to the array of options, and bringing in more value for existing and new customers alike.
Founded in 2010, the award-winning global money transfer and payment platform UPT, is the first of its kind in Turkey and can be utilized to send or receive money to and from a bank account, credit card or an individual, either domestically or internationally, and in multiple currencies. UPT is a subsidiary of Aktif Bank, the biggest private investment bank in Turkey.
Hasan Fardan Al Fardan, CEO of Al Fardan Exchange L.L.C., said: "We are pleased to partner with a platform like UPT and widen our scope and reach for our customers. This partnership brings with it a new wave of innovation and expands the horizon for our competitive remittances for our customer base in the UAE."
Hasan Jaber Al Fardan, Deputy CEO, Al Fardan Exchange L.L.C., added: "This new partnership offers our clientele the opportunity to trade a new currency through an effortless process. The agreement brings with it a cost-effective, rapid, and widespread money transfer system. The ease of the system along with real-time cash pick-up will greatly improve our users' experience and it is our hope to continue to strive towards greater opportunities such as this."
Hakan Ozat, CEO of UPT, underlined, "We are excited for our partnership with Al Fardan Exchange which is the leading money transfer firm in the UAE. We saw that both companies share similar customer oriented ethical values and innovative approaches. It's apparent that customers will enjoy the fast, transparent and seamless money transfer services emerging by the partnership of our companies.
Murat Kastan, EVP of International Partnerships, expressed "We are proud to start the partnership with Al Fardan Exchange. With this partnership we are providing unique services to our customers with fair fees. These value added services will enable instant transfers with several options such as cash payouts, bank account transfers and transfers to our mobile app UPTION. We will continue to work with Al Fardan's team to add innovative services"